In February, Casey Mears did what he had done for most of the last 14 years. He traveled to Daytona to participate in media day for NASCAR's Speedweeks.
Then he left.
For the first time since 2003, Mears had no part in NASCAR's on-track festivities building up to and including the Daytona 500. The "odd" circumstances were a result of Mears' seven-year relationship with Germain Racing ending at the end of 2016.
The winner of the 2007 Coke 600 and a veteran of 488 Cup starts waited until the March 25 Xfinity race at Auto Club Speedway for his first track action of 2017. Mears has since competed in 12 races for Biagi DenBeste Racing in the No. 98 Ford and will end the year with the races at Phoenix and Miami.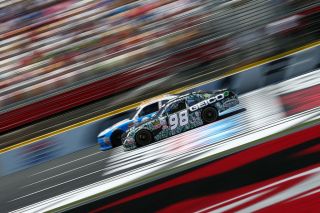 The schedule has provided him his most free time since his days driving Indy Lights.
"It was definitely tough at the beginning of the year to watch the races and not being a part of them," Mears told NBC Sports. "Just out of, what do I want to say, repetitiveness. Just so many years of going every single weekend and then all of a sudden not going was definitely an adjustment for sure. The flip side of that is that it's been a good thing. I've had a lot of time. … Even though I have a passion for racing and would still get right back in it at a full season opportunity again if the opportunity came around. But knowing that it hasn't for this year, it's been fun to take advantage of the time I do have.
"I've gotten to make a lot of my kid's games and tournaments. My kids are involved in gymnastics and soccer and basketball and all those kind of things. Actually being home for some weekends and getting to watch some of their games and be a part of that stuff has been really enjoyable. But it's been adjustment for sure."
The following Q&A has been edited and condensed.
NBC Sports: How was your Global Rally Cross experience last weekend? Was that the first time you've done that?
Mears: I really enjoyed that. … When the series was first trying to get rolling, they did some events at Loudon and at Charlotte, kind of on the front stretch and then in the infield during our race weekends when we were racing Cup. I was exposed to it a little bit then. Years ago I entered the Race of Champions over in Spain (in 2003). I got to drive a Peugeot for a couple of laps, which is a world rally car there. … I've been looking at that series talking to those guys about possibly getting involved, and I just wanted to go out to California last week. It was their last race of the year. … It seems like the series really has some legs and starting to take off. … It seems like there's a lot of IndyCar car guys, open-wheel guys that are involved that series right now. Not just drivers, but team owners. Michael Andretti, Bryan Herta. Those guys are all involved. And when I look around at a lot of the teams, they're all guys I worked with in the past on my Indy Lights teams and IndyCar programs I drove for. … It was kind of a big reunion in a lot of ways of catching up with people I hadn't seen in quite a while.
NBC Sports: What was the first NASCAR race you ever attended?
Mears: The very first NASCAR race, that was sanctioned by NASCAR, would have to be when my dad (Roger Mears) did the Truck Series. The very first year that Truck Series started my dad was a part of that. He ran a handful of races (four points races). I want to say the very first (exhibition) race was at Mesa Marin in Bakersfield, California, where I grew up. I was at the very first ever Truck race at Mesa Marin.
NBC Sports: What do you remember about that?
Mears: My dad was involved so a lot of my memories revolve around the team and the program that he was trying to put together. I remember helping him build the truck. I remember as a younger guy building the floorboards for the truck and the foot rests and a lot of stuff in the interior. Just because from a driver standpoint that was the stuff I was most familiar with at the time and I was pretty young. … I had to be probably 12, 13 years old.
NBC Sports: How did you go from open-wheel racing to stock cars? What prompted it?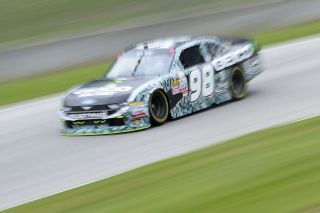 Mears: What really drove it was the state of open-wheel racing at the time. At that moment, open-wheel racing was in a flux at best. I had done the Indy Lights thing, had won races and finished (second) one year in the championship and (third) the following year in the championship and it was really time for me to move on and go to that next level. I started dabbling in some IndyCar races. I did a race for Bobby Rahal and filled in for Alex Zanardi when he had a big accident in Germany. He lost his legs there. I ended up filling in for him for the remainder of the season. … I was sitting there trying to decide which was going to be the right way to go. I didn't know if CART was going to be the future in IndyCar or if it was going to be IRL. Nobody really knew it. Randomly, I had a guy call me that was involved in a program in North Carolina, which was a Busch Series team at the time. It was Welliver-Jesel Racing. Welliver had been involved in the sport for quite awhile. Wayne Jesel was just getting involved and wanted to do an engine program and have a race team. A silent partner who was involved in the IndyCar side of things at that point said, 'Hey, what are you doing next year? Would you like to come back and start stock car racing?' The more I thought about it, my dad already moved back in 2000 and was a shop foreman for Chip Ganassi and his stock car program. He kept telling me how much was going on back east and how many teams there were and all the racing that was happening. 'You got to get back here and check it out.' All those things combined made me make a decision to go ahead and try it.
NBC Sports: What about stock car racing appealed to you that other forms of racing you'd been in couldn't provide?
Mears: That's a good question. Because I loved open-wheel racing and I still do. The cars are very fun to drive, I definitely have a passion for it based on my family's history and the people that I knew. The stock car thing was really foreign to me. … The one thing I learned that I enjoyed about stock car racing that I didn't know that I was going to like was the short tracks. It took me awhile to get the hang of them because they were probably the thing that was most different from anything I'd ever done before. Probably my third year in stock car racing the one thing I really enjoyed about it was how diverse all the tracks were.
NBC Sports: Where is your Coke 600 trophy? Where does it sit now?
Mears: Right now it's in my office in my house.
NBC Sports: How often do you stop and look at that?
Mears: You know you get used to it being there and not often. I think that's what trophies are kind of cool for, right? You get used to having them and over time and it's another piece of equipment in your house. But what's cool about having a couple of them on display is that every now and then somebody sees it and wants to ask about it. It helps you relive those cool moments from your life. Every now and then a friend comes over or somebody new comes to the house and asks about em'. It's sitting right next to the (2006) 24 Hours of Daytona win (trophy) and a win I had in Houston in Indy Lights. It's just cool to have. It was a very special moment in my life. I think in my long career in NASCAR I obviously didn't accumulate a lot of wins. I have the one for winning in Charlotte, so it's definitely a special moment.
NBC Sports: What's your dream car?
Mears: I lived my dream for a little while. I can tell you that. I had a sand car, I know it's not a vehicle you drive on a road. I had a sand car that had about 1,300 horsepower. Out of anything I've driven outside of motorsports, it's the most fun thing I've ever driven. Horsepower-wise, handling, the whole scene of going out to the sand dunes and ripping around the sand dunes and a camp fire at night. That whole thing. That's probably the most fun car I've ever had.
NBC Sports: If you could have a one-on-one matchup with any driver past or present on any track in any form of car, what would the arrangement be?
Mears: I would love to go head-to-head with my dad in an off-road event. Like the stadium trucks we used to race in the Mickey Thompson off-road stuff. About the time I was old enough to start moving up into the Truck Series was about the time the Mickey Thompson series kind of fell apart and I ended up going open-wheel racing. My brother and my dad raced against each other for years doing that stuff. He's one of the guys I respect the most in the sport and it would just be a blast. It would probably never happen at this point in our careers, in our lives. But that's something I would love to do.
NBC Sports: With Halloween coming up, what's the best Halloween costume you've ever had?
Mears: Last year or the year before my wife (Trisha) and I dressed up. I dressed up as Clark Griswold and she dressed up as Christie Brinkley from the Vacation movie. That was pretty fun.
—
Previous Spotlights