For years, the cry has been for NASCAR to add short tracks for all the action they provide. But a curious thing is happening in those races.
Cautions are declining.
That's not necessarily a bad thing if you like green-flag racing, but it also takes away from the imagery of cars beating, banging and wrecking.
Through the first five races on short tracks this season, cautions are down 25.5 percent from the same time last year and down 37.5 percent from this time two years ago at those tracks.
Last weekend's Richmond race had three cautions — the fewest cautions there since the September 2010 race there. Two of those three cautions last weekend were for stage breaks.
Richmond's April race had six cautions. The March Martinsville race had four cautions, including two for stage breaks.
So, what's going on?
Chase Elliott cites the cars.
"The big one for me is just how fragile these cars are now," Elliott said this past weekend at Richmond Raceway. "And you can't really even lean on anybody and continue forward."
Kyle Busch, who started at the back and won last weekend at Richmond, says that there is still a lot of hard racing in the pack.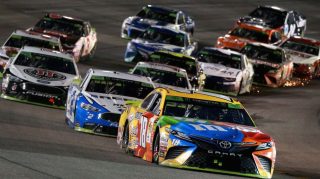 "I ran with (Alex Bowman) and (Kyle Larson) and (Austin Dillon) and somebody else, and … you would you have thought we were all racing to save our lives," Busch said. "It was nuts. It was pretty crazy how hard those guys were running."
Joey Logano wasn't shocked that there were few cautions at Richmond.
"There's race tracks that are just like that," he said after his 14th-place finish. "A lot of times if you go to high-wear race tracks, tire wear, it kind of lends itself that way.
"There was a lot room to race and move around. People were trying to save their tires, they're racing the race track more than they're racing the other cars. That kind of makes it to where there are just long green-flag runs.
"There (also) are not as many, for lack of better word, junker cars out there that used to blow up or blow right front tires from overheating beads. Those cars aren't out there anymore and that's where a lot of your cautions used to be generated from, and then we would race hard because there was a caution and we were all bunched up. Just the nature of the beast these days. That's not a bad thing."
This is not to say that accidents don't happen at short tracks. The Bristol race in April had 13 cautions and the August race had nine cautions — the highest totals at short tracks this year.
Still, the trend is noteworthy. Here is a look at average number of cautions for short track Cup races in recent years and how it has declined in recent years 
2018 — 7.0 average cautions *
2017 — 9.6
2016 — 10.2
2015 — 11.2
2014 — 10.5
2013 — 11.0
2012 — 7.8
2011 — 11.3
2010 — 9.0
* Through five short track races (one remains this season). All other years are average over six short track races.
---
Change is coming. It just takes time.
That's the message from Rob Kauffman, chairman of the Race Team Alliance.
Some change coming soon will be the 2019 rules package. Car owners are expected to vote on it this week.
Other changes will take longer. Among the key items for team owners are controlling costs and increasing revenue.
The decision by Furniture Row Racing, the reigning championship team, to cease operations after this season was a shock to the sport. While there were many contributing factors, having a major primary sponsor announce in July that it wouldn't be around after this year showed how vulnerable teams can be to when a sponsor decides if to stay or go.
5-hour Energy's decision left minimal time before the end of the fiscal year on Oct. 1, a calendar many companies go by. That made it more difficult to seek the million of dollars the team needed from companies to remain competitive next year.
With the gap more than car owner Barney Visser was willing to pay out of his pocket, he decided to close the team after this season.
"It shows that even billionaires can get tired of writing checks," Kauffman told NBC Sports, although Visser is not a billionaire.
"The sport needs a sustainable model and a better balance of league revenue vs. third-party revenue to run a competitive car. In defense of NASCAR and some of the other teams, no one tells you to spend more than you get. It's like any business, it's up the owners of the business to match their revenues with their expenses. No one is forcing anybody to spend more than you get."
While it's easy to say give the owners more money, that won't solve the issue if they increase spending based on the extra money they receive.
"To try to remedy the situation probably requires a combination of things," Kauffman said. "It requires a better balance of contractual revenue with third-party sponsorship and then also some sort of cost management that is sort of like other sports that keeps you from spending an infinite amount of money to go faster because teams will do that.
"If the top guys are spending $35 million and the bottom are spending $5 (million), that's not going to provide a good show."
It's just a matter of how to enact the changes.
"Everyone agrees that we need to address the issue," Kauffman said. "It's not a consensus of how to do it. There are certainly some advocates of a cost cap, then there's equally people saying how do you enforce that, how do you monitor that, is that really the solution, we should be looking at revenue instead of expense. There's different voices. That's one reason why it hasn't bubbled out yet. It's still in the formation phase because it's big."
---
With the 2019 rules package expected to be approved by owners this week, it appears that teams will run a package that has some similarities to what was run in the All-Star Race.
One change is that the engines are expected to have a tapered spacer instead of a restrictor plate. The goal is to give drivers more throttle control than they had at the All-Star Race so drivers just don't have the accelerator pressed to the floor throughout a whole lap. This package is expected to be used in several races next year.
Kyle Busch has been outspoken about taking horsepower away from drivers and nothing has changed his mind.
"I'm not a proponent for the change," he said Monday during a break in testing at Kansas Speedway. "Just have to take what happens and what comes to us and deal with it."
---
Stage points are already making a difference after the first two races of the first round.
Ryan Blaney holds the final transfer spot to the second round heading into Sunday's playoff race on the Charlotte Motor Speedway Roval (2 p.m. ET on NBC). Blaney has 2,060 points.
But Blaney has scored only three stage points in the playoffs. That's left him in a precarious position.
Stage points have helped others against Blaney.
Alex Bowman has 2,061 points, giving him a one-point lead on Blaney. Bowman is ahead of Blaney because Bowman has 18 stage points to Blaney's three.
Chase Elliott has 2,066 points, giving him a six-point cushion on Blaney. Elliott has 24 stage points to Blaney's three, giving Elliot 21 extra points compared to Blaney.
Kurt Busch has 2,071 points, giving him an 11-point cushion on Blaney. Busch has scored 22 stage points, giving him 19 more stage points than Blaney.