Corey LaJoie's efforts to raise money for a shoe charity has resulted in him being named the fourth quarter winner of the National Motorsports Press Association's Pocono Spirit Award.
In August, the Cup Series driver gave up a month's salary from Go Fas Racing so the charity Samaritan's Feet could be placed on his No. 32 Ford for the Aug. 4 race at Watkins Glen International.
LaJoie raised more than $100,000 for the organization, which was founded in 2003 to provide shoes to children and individuals in need.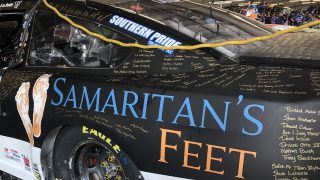 The money was raised through LaJoie's Hope Givers page, with the names of each donor being written on LaJoie's car.
The NMPA Pocono Spirit Award is designed to recognize character and achievement in the face of adversity, sportsmanship and contributions to motorsports. The NMPA membership selects quarterly recipients as well as an overall winner each year. The award is sponsored by Pocono Raceway and has been presented annually since 1992.
Ryan Blaney was the first quarter winner, Austin and Ty Dillon were the second quarter winners, and Kurt Busch was the third quarter winner.
The overall winner of the NMPA Pocono Spirit Award will be presented Feb. 1, 2020 at the NMPA Awards Ceremony.