JR Motorsports and Chip Ganassi Racing were the winners of the second playoff round races of the eNASCAR Pro League Series Wednesday night, which were held on a virtual Kansas Speedway
Josh Parker of Chip Ganassi Racing won the PlayStation 4 race for his first win of the season. Parker is not a playoff contender.
JR Motorsports' Tyler Dohar, a playoff contender, won the XBox One race for his first win of the year.
The teams for GoFas Racing and Wood Brothers Racing were eliminated from playoff contention.
There are two rounds left in the playoffs. The next race will be held Oct. 9 on a virtual Homestead-Miami Speedway and the season finale is scheduled for Oct. 23 on a wild card track.
Here are the point standings with two races left in the playoffs.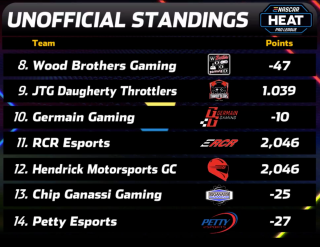 You can watch the races in the video below.