Then there was one.
The Cup Series regular season comes to an end this weekend at Indianapolis Motor Speedway (2 p.m. ET Sunday on NBC).
The 160-lap race on the 2.5-mile track is the last opportunity for drivers to lock themselves into the 16-spot playoff field via a win or points.
Making the task even more daunting is that after Sunday's Southern 500, there are only two spots left to fight over.
What are the chances a driver who hasn't clinched a playoff spot yet can earn their first win of the year at the Brickyard?
Based on recent history, they're decent.
In 25 runnings of the Brickyard 400, only four times has a driver earned their first win of the year in the race.
However, three of those four occurrences have happened in the last eight years. In all four occasions though, the driver failed to win again that year.
It first happened 2003, when Kevin Harvick snapped a 37-race winless streak to earn his fourth career Cup victory. He wouldn't win again until the spring 2005 race at Bristol Motor Speedway.
The second occurrence was 2011. That year Paul Menard led 11 of the final 16 laps and beat Jeff Gordon to earn his first career Cup win. In the 293 races since, Menard is winless.
Ryan Newman followed in 2013, winning at his home track two weeks after it was revealed he wouldn't return to Stewart-Haas Racing the following year. He wouldn't win again until the spring 2017 race at Phoenix.
The most recent example of a first-time winner at Indianapolis came in 2017 with Kasey Kahne.
The then-Hendrick Motorsports driver survived two overtime restarts to claim his only win at Indianapolis. It also marked his first win since Atlanta in 2014. Kahne would never visit victory lane again after being forced into an early retirement in 2018 due to health issues.
Which winless drivers still trying to clinch a playoff spot this year have the best shot at winning Sunday?
Drivers near the bubble
Clint Bowyer (15th, +8 points above cutline) – Bowyer enters the weekend with two straight top 10s. Led 37 laps at Indy last year – his career-best there – before finishing fifth. It was his first top five there since 2010.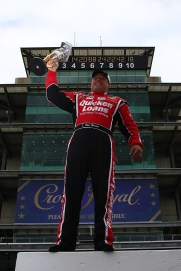 Daniel Suarez (16th, tied with Ryan Newman at 617 points) – No laps led in two Indy starts. Best finish was seventh in 2017.
Ryan Newman (17th) – Hasn't led a lap at Indy since his 2013 win. Has one top five (third in 2017) and one top 10 (10th in 2018) since the victory.
Jimmie Johnson (18th, 18 points behind cutline) – With four Indy wins, Johnson has the historical advantage among the drivers fighting for the last two playoff spots. But since he finished second to Newman in 2013, Johnson has just one top five at the track (third in 2016). He was in contention late in 2017 before a wreck took him out.
Paul Menard (19th, 69 points behind cutline) – Lightning isn't known for hitting the same spot twice, but Menard would probably like for an exception to be made. In his seven Indy starts since winning there, he has two top 10s, finishing 10th in 2016 and ninth last year in his first start there for Wood Brothers Racing.
Potential spoilers for the spoilers
Matt DiBenedetto – The Leavine Family Racing driver has shown his potential over the last two months on short tracks and road courses, which lend themselves to drawing the competition together. But with the best ride he's had in his career and time running out to prove himself for future employers, there's no telling what DiBenedetto can will himself to in the regular-season finale.
Chris Buescher – Buescher only has one top 10 in three Indy starts (ninth in 2017) but he's on his own personal streak of consistency. He enters the weekend having not finished lower than 18th in the last 14 races. Weirder results have happened at Indy, just ask Menard.
Don't need to win, but they could
There are four playoff drivers who have yet to win – Kyle Larson, Aric Almirola, William Byron and Ryan Blaney.
Larson is the only one of the four with a top-10 finish at Indy, having earned three in his first three starts. He enters this weekend with eight top 10s in the last 10 races, including five top fives.
Byron placed 19th in his lone Brickyard 400. However, he has three top 10s in four starts at Pocono Raceway, the speedway similar to Indy with its long straightaways and relatively flat turns. He finished fourth there in July for his only top five in the last seven races.