Stewart-Haas Racing swept both races in the eNASCAR Heat Pro League's regular-season finale, held Wednesday night on a virtual Daytona International Speedway.
It was the first time one team has swept a round this season.
Josh Shoemaker (SHG Slick 14x) won his second race in a row, winning the XBox One event.
Brandyn Gritton (SHG_HotRod_14p) won for SHR in the PlayStation 4 event, earning his third win of the year.
Below are the final overall point standings – combing both consoles – heading into the four-round playoffs, which begin Sept. 11 on a virtual Las Vegas Motor Speedway.
Eliminated from playoff contention are the teams for Richard Childress Racing, Hendrick Motorsports, Richard Petty Motorsports and Chip Ganassi Racing.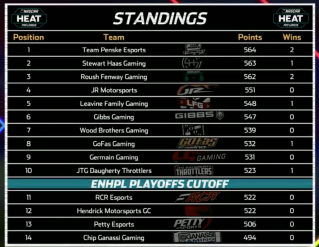 You can watch both races in the below video.