BRISTOL, Tenn. — Daniel Smith, rear tire changer for Kevin Harvick's team, left a hospital Saturday afternoon after surgery this week as part of his cancer treatment.
Smith, who had the planned surgery Thursday, told NBC Sports through a team spokesperson that he should be back in four to six weeks. The Cup playoffs begin in four weeks at Las Vegas Motor Speedway.
It was shortly before the Bristol night race last year that doctors discovered Smith had testicular cancer. He spent the day before that race undergoing scans, blood work and other tests to determine if the cancer had spread. Doctors found that the cancer had infected two lymph nodes in his lower abdomen and also saw a spot on his lung that was concerning.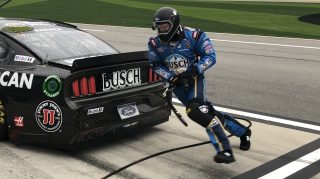 Two days after last year's Bristol night race, Smith had surgery to remove the tumor in his testicle. After a few weeks to heal, he began chemotherapy treatments. Each round consisted of one week in a hospital and two weeks of recovery. He had four rounds (12 weeks) of treatments. Smith returned to the track to watch Harvick compete in the championship race in Miami last year and then was back to changing tires at Daytona in February.
Thursday's surgery is expected to be the final one Smith needs. Tonight's race (7:30 p.m. ET on NBCSN) is the first he's missed this season. He stated through a team spokesperson that he walked a mile in the hospital Friday and again on Saturday before his release.
Harvick, who won last weekend at Michigan, starts eighth in tonight's race at Bristol Motor Speedway.