DAYTONA BEACH, Fla. — This wasn't supposed to happen. There's no way this little team could prevail at such a prestigious track that has celebrated the sport's giants. And this driver? Well, he'd already had a win, at least in his mind, taken away here. So as he held the lead during a delay for lightning and then rain, surely series officials would wait for the weather to clear and run the final 33 laps, especially with seven-time champion Jimmie Johnson lurking in third place.
Yes, this wasn't supposed to happen.
But the signs told Melissa Dennis that her 20-year-old son, Justin Haley, would win his first Cup race Sunday at Daytona International Speedway. No matter how much she tried, the signs kept pointing to one of the more unlikely victories in recent NASCAR history.
When the race began, Dennis couldn't get her son's radio channel on her headphones. Instead, she heard Seals & Crofts' iconic song "Summer Breeze."
The smooth melody and lyrics sent Dennis back to her childhood. Her family often heard that song when they spent summer days at an Indiana lake. When Dennis' mother, Linda Braun, died in 2008, the family was asked to select a song to play at the service. They chose "Summer Breeze" for those memories on the lake.
When Dennis heard the song in her headphones Sunday, her first thoughts were "Are you kidding me mom? Why are you popping up today?"
Dennis said her son's life changed the day after Linda Braun's funeral. Haley, who was 9 years old, saw a quarter midget hanging from a family member's barn and wanted to drive it.
"We pulled it down, let him drive it around the subdivision and couldn't get him out of it," Haley's uncle, Drew Braun said.
After driving the quarter midget, he didn't have to work hard to convince his mother and stepfather to let him race. His first quarter midget was not a thing of beauty, down to his black spray paint job on the car, but he had fun.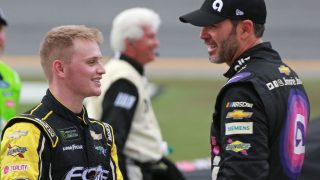 A year later, Haley's family put him in a faster quarter midget and Dennis said her son "got scared."
The family huddled.
"We said … we're either going to go out and really try hard, or we're just going to go have fun," Dennis said Haley was told.
"I want to have a career," Haley said of racing.
Soon, the family was spending more than 40 weekends a year taking him to races.
"We devoted every spare second we had to making sure he was on track," Dennis said.
Haley moved to North Carolina with his stepfather in 2015 when he ran the K&N Pro Series East Series full-time. His mother and siblings stayed in Indiana. That arrangement lasted less than a year before the family reunited in North Carolina.
"Justin needed to have a family," Dennis said of joining her son.
The following season, Haley won the K&N Pro Series East championship. He moved to the Gander Outdoors Truck Series in 2017. Haley won three races in 2018 and finished third in the points.
That year also saw him run three Xfinity races, most notably the July event at Daytona. Haley charged under Kyle Larson and Elliott Sadler coming to the checkered flag to cross the finish line first, but NASCAR penalized Haley for going below the double yellow line to make the move. Larson was declared the winner. Haley said at the time it was a "pretty BS call."
Haley has never watched that race. And he does not intend to do so.
But his family sees that finish differently.
"Last year, we thought dad was the reason he didn't win," Braun said, "because we figured dad pushed him below the yellow line, saying, "Hey, this is going to help your career more than if your won the race,' which we believe it did because it gave him a lot of notoriety by that mistake that he really wouldn't have got. People have talked about that for a long time. In a lot of ways, it was better."
Haley, a rookie in Xfinity this season, came close to redemption Friday, finishing second to teammate Ross Chastain.
While Haley's focus has been on the Xfinity ride, Sunday marked his third Cup start for Spire Motorsports.
His Cup debut came in April at Talladega. He failed to finish because of a crash.
It was with that race in mind that Haley's focus Sunday was to make sure not to damage the car for the small team.
"Strategically today, I was just riding around," Haley said, "and I would have been really happy with a lead‑lap finish."
He rode in 27th when the leaders crashed, triggering an 18-car melee that he drove through.
"I was ahead of (Haley) going through the wreck, and I must have slowed down too much because the sucker passed me," Corey LaJoie said with a smile after his career-best sixth-place finish.
Haley was seventh when the caution waved. He moved to third when those in front, including Johnson and William Byron pitted. That put Haley behind Kurt Busch and Landon Cassill. When NASCAR stated it would go to green on the next lap, Busch and Cassill pitted, giving Haley the lead.
Lightning was recorded within an 8-mile radius of the track and NASCAR stopped the race at 3:18 p.m. ET with Haley leading.
"We were just on the wrong side of a lightning bolt," Busch said.
A little more than an hour later, drivers were called to their cars and were strapping in when lightning again was detected within the 8-mile radius, delaying a restart.
Haley sought cover in the drivers meeting room, as officials transformed it into a backup Victory Lane.
"I've never been too lucky here," Haley said as he waited while hearing the rain pelt the building's roof. "That's why I'm trying not to get my hopes up."
Haley concedes he does not show much emotion. He appeared calm as he waited. But he wasn't. A tongue-tied conversation that ended with a nervous laugh, betrayed his anxiousness. As did his right hand. He rose it to show a friend how much it shook.
"Definitely a lot of stuff going on," Haley said with a chuckle.
That included his stomach, which he described as a "little turned over" while he waited.
"To be in this position is pretty insane," Haley said.
The waiting ended at 5:30 p.m. ET when NASCAR declared the race over and Haley the latest winner at Daytona, joining a group that includes those named Petty, Earnhardt and Andretti.
The Haley family celebrated while looking toward Linda Braun.
"I know she had a hand in it," Drew Braun said. "I know that. No doubt in my mind."
Dennis said she would deliver a message to her mom once the victory hit. Standing near her son as he had pictures taken with his team and the trophy, the shock was still there.
But Dennis, speaking through tears, knew what she would tell mom.
"I'm going to say thanks."