Drivers for Stewart-Haas Racing and JTG Daugherty Racing each claimed wins in the third round of the eNASCAR Heat Pro League on Wednesday night.
The pair of races were held on a digital version of Bristol Motor Speedway.
Brandyn Gritton (SHG_HotRod_14p) won for SHR in the PlayStation 4 race. Justin Brooks (mrTRACKBAR33) won for JTG Daugherty in the Xbox One race.
So far a different driver has won every race on each console. On the PS4, the races have been won by Wood Brothers Racing, Go Fas Racing and SHR.
On the Xbox, the races have been won by Team Penske, Roush Fenway Racing and JTG Daugherty.
The fourth round of the pro league will be held June 26 on a digital version of Watkins Glen International.
Race results
Points standings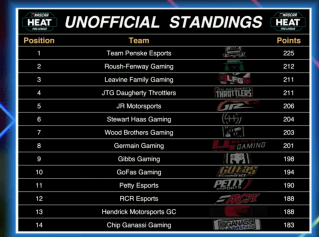 You can watch the full races in the below video.