World Wide Technology, in collaboration with Victory Junction, announced a collaboration Friday at Pocono Raceway with Richard Petty Motorsports.
Through a leadership donation by World Wide Technology founder and chairman David Steward and his family, Victory Junction will partner with Bubba Wallace's team this season.
Wallace will have Victory Junction on his No. 43 car for a select number of Cup races, beginning with this weekend's event at Pocono Raceway. Wallace said in a Friday press conference at Pocono that the deal is for 16 races.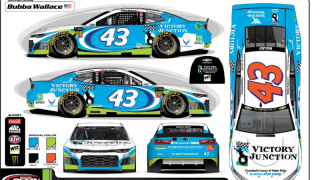 Victory Junction is an 84-acre camp for children with serious illnesses. The camp opened in 2004 and has delivered more than 50,000 camp experiences to children and their families. World Wide Technology will leverage its strategic partnership with Wallace and Richard Petty Motorsports to donate to Victory Junction the creation and development of an advertising, fundraising and call-to-action campaign: "Feel Your Heart Race."
MORE: RPM pit crew's tradition of waving to drivers before races
"I remember when I was a kid, having a lot of fun going out and doing things with my friends, and Victory Junction provides that and gives each child the opportunity to simply be a kid," Wallace said in a media release. "The camp makes these kids feel as special as they truly are. This is a great opportunity for NASCAR fans to support Victory Junction and make every kid feel special – to feel empowered. Fifteen years is a great accomplishment and I want to do my part to help Victory Junction reach another 15 years."
Said Steward in a media release: "Investments in diversity are critical for the long-term viability and future competitiveness of WWT. The same applies to the sport of racing. As the only African American NASCAR driver in over 40 years, we have been honored to support Bubba Wallace. With the Victory Junction alliance, we will celebrate and enable kids with diverse challenges and perspectives to reach their fullest abilities.
"Given our family's long history with Variety the Children's Charity, BJC Health System and St. Jude's, it was an easy decision to get involved with Victory Junction. Diversity matters. That is why we support Bubba. That is why we support Victory Junction."