Drivers for Go Fas Racing and Roush Fenway Racing were victorious in the second round of the eNASCAR Heat Pro League season held Wednesday night on the digital version of Auto Club Speedway.
Hunter Mullins (@Fedex_rcn_11_), who competes for Go Fas Racing, won the race among PlayStation 4 competitors.
Nicholas Walker (@wowTHATSgarbage) won the XBox One race for Roush Fenway.
The races occurred three nights after the season-opener, which was held on location at Charlotte Motor Speedway and saw wins by drivers for Wood Brothers Racing and Team Penske.
You can watch the end of the PS4 race here and the XBox One race here and watch the entirety of the races in the video below.
There are six rounds left in the regular season. They will next race the digital version of Bristol Motor Speedway on June 12.
Click here for the full schedule.
Here are the standings after two rounds.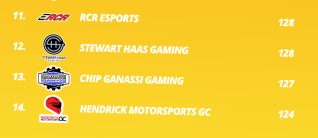 Full races