After six years of work and the dedication of volunteers and donations, a life-size statue of the late Dick Trickle was erected on Sunday in the former NASCAR driver's hometown in Rudolph, Wisconsin.
The statue, which depicts Trickle with his arms above his head acknowledging an unseen roaring crowd, was dedicated in a park at an unfinished memorial to the driver.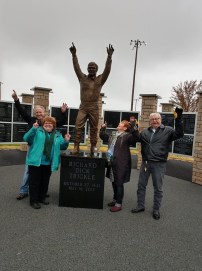 Held in the rain, the dedication came during a seven-hour celebration of Trickle that was attended by hundreds of fans and friends of the driver, in addition to his brother, sisters and daughter.
"It's amazing what they did," Chuck Trickle, the driver's brother told the Milwaukee Journal Sentinel. "I got here Monday at 5 o'clock. The guys were still here. We sat and had a beer, and I gave 'em all a hug and I looked at this thing and I got tears in my eyes.
"It really means a lot to our family and myself."
The dedication of the statue comes six years after Trickle's death at the age of 71 from a self-inflicted gunshot.
Trickle, the 1989 Cup rookie of the year, made 303 Cup starts from 1970 – 2002. His only two national series wins came in the Xfinity Series at Hickory Motor Speedway in 1997 and Darlington Raceway in 1998.
The memorial to Trickle is expected to be completed next year.