NASCAR Gander Outdoors Truck Series trucks will carry a commemorative decal in Friday night's race at Charlotte Motor Speedway, honoring team owner Mike Mittler, who passed away May 10 at 67 years old following a lengthy battle with cancer.
"I've always loved racing and got involved in 1968," Mittler said in a 2011 interview, according to a media release from his team, MB Motorsports. "Through local races I got to know the Wallace family. I worked on the crew that helped Rusty Wallace become the USAC stock car Rookie of the Year and 1983 ASA Champion.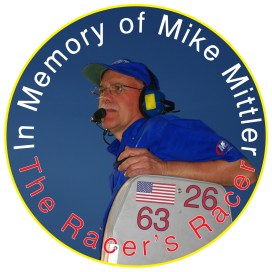 "We ran some NASCAR Busch races and did a few Cup events as well. When Rusty moved south, I started helping (younger brother) Kenny Wallace and was with him when he was crowned the 1986 ASA Rookie of the Year."
While the Wallace brothers – Rusty, Kenny and Mike – all moved south to North Carolina, Mittler remained true to his roots and built both his racing and manufacturing businesses in Wright City, Missouri (about 40 miles west of St. Louis).
Mittler helped several up-and-coming race car drivers in their careers, including former NASCAR Cup champion Brad Keselowski, fellow Missouri natives Carl Edwards and Jamie McMurray, Justin Allgaier, Regan Smith and others.