The spotlight is shining bright on Chase Elliott this week after he earned his first Cup win of 2019 Sunday at Talladega.
The win came at an ideal time for NASCAR on NBC's Steve Letarte, who interviewed Elliott this week for his "Letarte on Location" podcast.
The interview took place in Elliott's hometown of Dawsonville, Georgia, at the famous Dawsonville Pool Room.
They covered a number of topics in the 45-minute episode. Here are a few of them.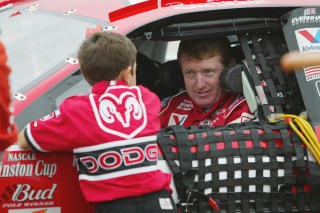 MEMORIES OF BILL ELLIOTT'S RACING CAREER
"Obviously, they're scattered, right? At that age they're scattered. When you're a kid I think you recognize big moments and obviously you can tell when something's special. I do have a couple memories of Indianapolis when he won the Brickyard (in 2002), because I just remember being absolutely amazed by … when you win there they used to take the cars up on this lift gate thing and I just thought that was the coolest thing ever. I remember that as a kid.
"I remember him blowing a tire at Homestead (in 2003) on the last lap and I think Bobby Labonte beat him. 
"The last one I remember, I remember him winning his last race (at Rockingham in 2003). A couple things about that I remember. He beat Jimmie (Johnson), which was pretty cool. Because Jimmie was getting started … He was obviously killing it. Came in and was having all this success and I remember all the hype around him and then just remember (Bill Elliott) beating him that day. Taking it to the young guy. I thought that was kind of cool. Victory lane was a lot of popcorn sponsor of some sort (Pop-Secret). They had popcorn. It was the car and it was popcorn. … I think I asked someone 'Can I eat popcorn?' So I'm sitting in victory lane eating the popcorn."
HOW JAMES FINCH HELPED HIM JOIN HENDRICK MOTORSPORTS AT 15 YEARS OLD
(Former Cup Series owner James Finch kept tabs on Elliott during his late-model career when he raced at 5 Flags Speedway in Pensacola, Florida)
"I think (Finch) had a car or sponsored a car down there. He loves the Snowball Derby, loves Pensacola and going over there and racing. So was in front of him a lot.
"We're there and I didn't know this, but apparently he was taking notice of some of the good runs we had at that point in time. He mentioned something to Mr. (Rick) Hendrick and I think Mr. Hendrick kind of thought about it and felt like he might want to help. He gave dad a call one day and dad and I flew to Charlotte one afternoon after school, sat down. Boss picked us up from the airport personally, drove us over to the shop, toured us around at his facility, sat us down in his office. … He's like 'I don't really know what's next or … what the right move is, but I want to help. Who knows where this is going to go, but I just want to help. I think we can make something work.' So that was really where everything really started and nothing was ever really promised, he just wanted to help and he expressed that and really opened the door for everything else after that to transpire."
DIFFERENCE IN RACING THE No. 24 AND No. 9
"I said it then and I'll say it now, I honestly didn't put a lot of thought into (driving the No. 24), the number thing. It didn't bother me. I don't think it ever really felt like home. (When I started) racing go karts, I didn't want to be the 24. I wanted to be the No. 9. … It didn't feel like home from that standpoint, but it's not something that concerned me. It doesn't make you go faster or slower what's on the side of the car. That was kind of my big thing in my head. It is what it is, let's just go and try to do good. …
"To me (the No. 9) just feels right. I don't know what it seems like to you. But like me walking out to the grid to get in the car, that's my car."
You can listen to the whole podcast below, including Elliott discussing his friendship with Ryan Blaney.