Coming off the first off-week of the season, crew chief Alan Gustafson and his No. 9 team at Hendrick Motorsports had an interesting three-race stretch awaiting them.
The Cup Series would head to Talladega Superspeedway, Dover International Speedway and Kansas Speedway.
The last two tracks hold good memories for Gustafson and driver Chase Elliott. Two of their three wins last year came in the playoff races at Dover and Kansas. The 1-mile Dover is also the site of Elliott's best average finish (4.3) through six starts.
"Probably of the three, I was most looking forward to Dover," Gustafson said Sunday.  "I just love Dover, because when you win Dover, you've done something.  That's a tough, fast track.  There's no place to hide.  There's no way you can get away with not being on the edge all day."
But they had to go through Talladega to get there.
"I was looking forward to coming here," Gustafson said. "I mean, you get a little beat down after doing it for so long, not getting the results, how fickle it can be.  Certainly don't want to say I wasn't looking forward to coming here.  You're a bit cautious with your expectations because this place can bite you in a second."
Elliott's win Sunday at Talladega came in Gustafson's 58th Cup points race on a superspeedway, with 29 each at Talladega and Daytona.
In those races, the first being the 2005 Daytona 500, Gustafson has worked with the likes of Kyle Busch, Mark Martin, Jeff Gordon, Casey Mears and Elliott.
Outside a win in a Daytona 500 qualifying race in 2018, Gustafson had come up one spot short of victory lane three times at superspeedways.
The closest he came was in the July 2007 race at Daytona, when Jamie McMurray edged Busch by .005 of a second to steal the win.
Nearly 12 years later, a day that saw an increased amount of coordination among Chevy teams, ended with Elliott leading 45 laps (his most on a superspeedway), including the final four, to score the win.
In addition to Gustafson and Elliott's first Cup superspeedway wins, the victory ended a seven-race stretch of Ford wins at Talladega. It also was Chevy's first Cup win of the season.
"We needed to win this," Gustafson said. "We needed to consolidate our efforts.  We needed to break the streak that one of our rivals has here. … (Crew members at Hendrick have) worked really, really hard.  Really haven't had the results to pay off their efforts."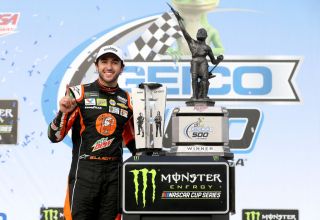 The win was also Hendrick Motorsports' first on a superspeedway since Dale Earnhardt Jr. won the July 2015 race at Daytona.
"Just thinking back a year or so, we've been so close to winning one of these (superspeedway) races for so long, haven't been able to do it," Gustafson said. "Happy for them we were able to get that done today."
Elliott noted that it was "pretty cool" to get Gustafson's first superspeedway win, but he observed that "a sticker is a sticker, the Playoff points are what they are.  I think it's important to rack them up as early as you can, as long as you can keep stacking on top of it."
While the No. 9 has been to victory lane four times in the last 25 races, Elliott doesn't think they're "winning often enough."
"I feel like we need to be contending more," Elliott said. "I see some of our competitors being in contention more than we have been throughout the season.  I think we can certainly do a better job.
"To have a win this early in the year I think is nice. And just because we won at Dover and Kansas last year doesn't mean we're going to go run good there, too. You know that.
"It's going to be hit‑or‑miss."