How to stop worrying about and start loving The Twitter?
Tyler Reddick said he found the secret a few years ago after much hand-wringing over how his thoughts and views would be perceived when they took shape in social media.
"Half the time I wouldn't say them, and I just said, 'I'm going to let it go and let it chill and filter it some,'" Reddick told NBC Sports during a recent media availability at Bristol Motor Speedway. "Because you don't want to get out there and just blast someone and be swearing at them. There's a fine line.
"I'm sure at some point in the future, my interaction will cross that line on accident, and there'll be some serious backlash for it."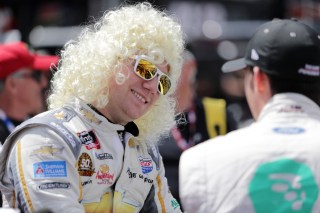 In the meantime, the NASCAR world is getting the best version of the Richard Childress Racing driver – the raw, candid and often hilarious (check out the wig he wore at Bristol to commemorate his Dolly Parton-sponsored car) but sometimes controversial sides – as the 2018 Xfinity Series champion shares more of his stream of consciousness with the world.
Whether it's been a Daytona feud with Bubba Wallace, mercilessly trolling the Xfinity Series for a lack of championship recognition, or offering some serious thoughts on group qualifying in Cup, Reddick has a sharp pair of thumbs working over his smartphone.
Though he seems more prolific since winning the title last November, Reddick said he had grown comfortable with being himself on Twitter long before that.
Among the first times was when he called out truck series driver Ben Rhodes for describing the Dirt Derby at Eldora Speedway as a "demolition derby" during a TV interview. "It's truly an incredible event, and it's cool we're even at Eldora," Reddick said. "For him to bash it, it hit a soft spot obviously because I'm a dirt racer."
"Half the time I'd type something out, and me being reserved when I was younger, I just wouldn't say it," Reddick said. "And I figured I might as well be myself and say what I want to say when I'm feeling it, or type it, I guess I should say.
"I think it was there before the championship. I think it's just kind of coincidence (since then). Obviously, there have been people who have poked about the championship, so I think maybe in that sense because of that, it's gotten more attention since then. I think as I've gotten more comfortable with me being who I am and not afraid to show it, I've just opened up to it more."
It already has gotten delicate, though, in the case of Wallace, whose Richard Petty Motorsports team has an alliance and engine deal with RCR.
Without using his name in a tweet, Wallace blamed a crash on Reddick, who was making his Daytona 500 debut.
"It was a touchy deal, but I was very frustrated naturally in that situation," said Reddick, who leads the Xfinity points with seven top 10s through eight starts of his first season with RCR's No. 2 Chevrolet. "He was, too. But he just went on Twitter and said something I didn't agree, and he kind of did it in a light that he was trying to throw it under the radar a little bit.
"He knew who he was talking about, and he didn't want to say anything to me about it, he wanted to put it on Twitter, so I had no problem calling him out for it. It's just the way it was. I've done it in the past."
And will continue to do so in the future – at least until he crosses that line. Until then, Reddick recognizes that the byproduct of his honesty is some honest laughter from his followers.
"There are people getting chuckles that I know (are) getting a kick out of it," Reddick said. "I don't really do that to get those responses. I just do it because that's how I feel about it."