FORT WORTH, Texas — Any other year, Denny Hamlin likely doesn't win. But a new rules package, combined with key strategy calls and a tire that didn't fall off much, allowed Hamlin to rally from two pit road penalties to win Sunday's race at Texas Motor Speedway.
No driver had come back from two pit road penalties in the same race to win since Brad Keselowski did it in October 2014 at Talladega. But that was restrictor-plate racing, and Keselowski's penalties came during the same caution period a third of the way through that race.
Hamlin faced a much different situation at Texas.
The first half of Hamlin's race was a mess. He missed pit road on Lap 63 and was speeding on pit road when he made it there on Lap 64.
"I was just beating my head against the steering wheel thinking, 'Man, we're going to finish bad with a really fast car,'" Hamlin said.
An uncontrolled tire on Lap 173 of the 334-lap race sent Hamlin to the back.
"It was a very rough day," crew chief Chris Gabehart said.
Just as Gabehart's pit calls helped Hamlin win the Daytona 500, Gabehart again guided his driver to victory Sunday.
Gabehart could do so because of the rules and the tire.
The new rules package is intended to keep the field closer together. That creates more opportunities to pass. Previously, the fields at Texas Motor Speedway would spread out, making it harder to gain ground a few laps after a restart.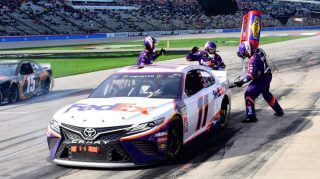 Gabehart said that this was not a track position race because how cars could move through the field. Just as important was that the tires did not have a significant drop off in time during the course of a run. Had these been tires that wore, Gabehart would not have been able to call for no-tire stops. He would have had to change four tires each stop and Hamlin would not have been able to leapfrog some cars through strategy.
A no-tire stop put Hamlin in the lead on Lap 156, and he won the second stage, which ended at Lap 170. Hamlin came down pit road during that caution for four tires. He was penalized for the uncontrolled tire during that stop, dropping him outside the top 15.
Gabehart called for a no-tire stop a second time during caution on Lap 256. Hamlin restarted sixth behind three cars that did not pit and two others that also did not take tires. 
"For our scenario each time, it just made the most sense," Gabehart said of the no-tire calls.
Hamlin took the lead on Lap 303 from teammate Erik Jones when Jones pitted for two tires and fuel. Hamlin relinquished the lead on Lap 319 for enough fuel to make it to the end. When the field cycled through, Hamlin was back in front because of how little time he had spent on pit road.
"This is a complete different style of racing than what I used to do in the past," Hamlin said. "I have to adapt. Seems like I'm adapting quickly."
As is Gabehart.
---
Rarely do you hear NASCAR officials so candid and raw as Steve O'Donnell was Monday on "The Morning Drive" on SiriusXM NASCAR Radio.
The topic was group qualifying and the issues that have pervaded the sport the past month.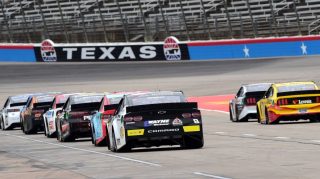 Asked if he was angered by the controversy, O'Donnell said: "I think it's ridiculous, candidly. I know the drivers did not like this qualifying before the season. Part of you says, 'Are (they) doing this on purpose to get rid of it?' "
O'Donnell's comments were part of an offensive that series officials have gone on since Auto Club Speedway last month when all 12 cars failed to complete a lap before time expired in the final round.
Driver complaints about the qualifying have been constant since.
NASCAR President Steve Phelps appeared on "The Dale Jr. Download" (5:30 – 6:30 p.m. ET Tuesday on NBCSN) and was vocal about what has happened in qualifying.
"That was unacceptable if I was a race fan and unacceptable if I was at the race track," Phelps said of this past weekend.
Scott Miller, senior vice president of competition, expressed his displeasure with what happened March 15 at Auto Club Speedway, saying the actions of drivers made "a mockery" of qualifying. Miller also said of the drivers not completing a lap in time: "It surprised me that they weren't smart enough to go out."
Last weekend at Texas, Jay Fabian, Cup series director, also raised questions about the drivers' actions, saying: "Some of it is a little confusing because they say they don't want to go out first … but (Daniel Suarez) went out by himself and transferred twice by himself. They say you got to follow somebody, but they chose to not follow him. I don't understand why they didn't."
Since Auto Club Speedway, various NASCAR officials have used the term "mockery," "ridiculous," and "unacceptable" in discussing qualifying, and O'Donnell even said it makes one wonder if the drivers are doing this on purpose to get rid of the format.
Strong words but the time will come for action. The draft won't be a factor in qualifying until Kansas next month (Talladega already has single-car qualifying) so NASCAR has some time to address the matter. The question is how strong will NASCAR's response be?
---
The driver who might have had the most reason to be upset with NASCAR moving the championship race from Miami to ISM Raceway in 2020 would be Kyle Larson, but he wasn't.
Miami is one of Larson's best tracks and had he qualified for the championship race, he likely would have been the favorite regardless of who the other contenders were.
"Even though Homestead has been a track where I can lead a bunch of laps and also challenge for the win, I've always felt like it needs to go somewhere else," Larson said. "I would like to see it go … to a different track every year."
---
Kyle Busch has one more race left this season in the Gander Outdoors Truck Series. Busch, who has won his first four starts this season, is limited to five races in that series because of his Cup experience.
Busch's remaining race is next month's event at Charlotte. It will mark the earliest his Truck season has ended. Part of the reason he races in the Truck series is to help improve his equipment at Kyle Busch Motorsports for his other drivers. With being done so early in the season, how will that impact the organization's performance the rest of the year?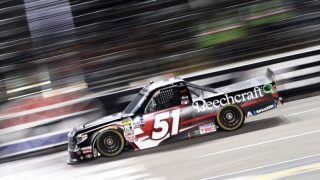 "For us, we aren't a Cup team and so we move a lot slower than the Cup teams do," Busch said. "You all talked about how when everybody got done with the West Coast swing, the first time people would have updates to their cars would be Texas. I don't think we would see an update to our stuff for two months. It just takes a bit longer to kind of get all that instilled into our stuff.
"If you look at me running the front side of the season and running as much as I do right now, we've been building some notes, and we've been building some things that we can work on and get better and do a little bit differently, so when we get to say July, August – that's when you'll start seeing some stuff coming out.
"That will be the brunt of the season, kind of closing in for the playoffs and then the playoff push. I'd like to run more or maybe I'd like to run a little bit later, but I just don't know that the races fall, especially with me – like going to Iowa, I've never been to Iowa. Gateway, those places, I don't need to go to those places, so it doesn't make any sense for me to go to those places."
---
Tyler Ankrum was excited after his sixth-place finish in Friday night's Truck race. It was just the fourth career start in the series for the 18-year-old. That tied his career-high finish. He also placed sixth at ISM Raceway but Friday's run was special because it was his first race on a 1.5-mile speedway.
"It's kind of still surreal," Ankrum said after the race. "I"m racing against (Matt) Crafton, Kyle Busch and (Johnny) Sauter. It's crazy. I even passed Sauter on the outside! I don't think you realize how important that is for me. I had a ton of fun and can't wait to come back."
He wasn't the only driver who had a memorable weekend. Saturday's Xfinity race saw Jeb Burton finish fifth in his first start of the season for JR Motorsports (Burton is back in the car next month in Charlotte).
As Burton talked about his finish to Performance Racing Network, he got emotional.
Other notable finishes from the weekend: William Byron's sixth-place finish matched his career-best result in Cup. Ryan Sieg won his first stage in the Xfinity Series on Saturday. Ronnie Bassett Jr. finished 15th in the Xfinity race, the second-career start for the 23-year-old.