FONTANA, Calif. — Kyle Busch overcame a pit road speeding penalty to score his 200th career NASCAR victory at Auto Club Speedway, where Busch has had a rich history.
Busch scored his first career Cup victory Sept. 4, 2005 at Auto Club Speedway. He was the winner in a memorable finish at this track in 2013 — victory No. 130 in his NASCAR career.  Running third, Busch swept past the dueling cars of Joey Logano and Denny Hamlin as they made contact, sending Hamlin into the wall.
Sunday, he earned his 200th career NASCAR victory. Here is a look at some of those memorable wins and the list of all his victories: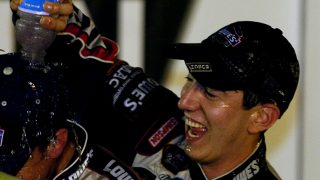 Victory No. 1 — May 14, 2004: Richmond Raceway — Busch Series: The 19-year-old started on the pole and led 236 of 250 laps to score the victory. "That was awesome," Busch said in victory lane. Busch had to hold off Greg Biffle for the win. Said Biffle: "I could have gotten to his bumper at the end of the race. I figured I'd let him go. I didn't want to race like that. He ran a good race."
Victory No. 9 — Sept. 9, 2005: California Speedway — Nextel Cup Series: The 20-year-old became the youngest Cup winner at the time when he took the checkered flag at what is now called Auto Club Speedway. Busch announced in victory lane that he was donating his race winnings to the Hurricane Katrina relief fund. More than 1,800 people were killed in the storm, which flooded New Orleans.
Victory No. 24 — March 9, 2008: Atlanta Motor Speedway — Nextel Cup Series: Busch scored his first Cup victory for Joe Gibbs Racing and also gave Toyota its first victory in NASCAR's top series. 
Victories No. 76, 77, 78 — Aug. 18, 20-21, 2010: Bristol Motor Speedway — Camping World Truck Series, Nationwide, Sprint Cup Series: He swept all three races, becoming the first driver in NASCAR history to win in each of its top three series on the same weekend. It was during driver introductions for the Cup race that Brad Keselowski said into the microphone that "Kyle Busch is an ass." Keselowski was upset about contact between the two of them the night before in the Nationwide race. He would repeat this feat in 2017 with victories No. 178-180.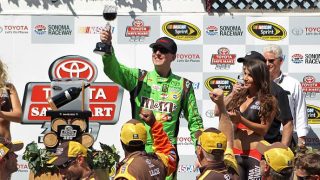 Victory No. 143 — June 28, 2015: Sonoma Raceway — Sprint Cup Series: Scored his first Cup win in his fifth series start that season. He missed the first 11 points races after breaking his right left and left foot in a crash in the Xfinity Series season opener in February at Daytona.
Victory No. 154 — Nov. 22, 2015: Homestead-Miami Speedway — Sprint Cup Series: He wins the season-ending race to cap his comeback from missing the first 11 points races and captures his first Cup championship.
Victory No. 188 — May 27, 2018: Charlotte Motor Speedway — Monster Energy Cup Series: He scored his first points-paying Cup victory at this track. The win gave him at least one win at all 23 facilities that host Cup races. He led 377 of 400 laps. Said Busch: "It's just something cool tonight to be able to accomplish something that I've been dreaming about since I was a kid. I remember being eight, nine, 10 years old and wanting to win races at Charlotte, wanting to win the Coke 600, wanting to win the All-Star Race and just remembering watching those races under the lights here and dreaming of one day going to Victory Lane, and now finally it's here."
Victory No. 200 — March 17, 2019: Auto Club Speedway — Busch had the dominant car but a pit road speeding penalty on Lap 123 dropped him to 18th and created some question of it he could get back into the lead. He took the lead for good on Lap 175.
| | | | | |
| --- | --- | --- | --- | --- |
| | Series | Track | Driver | Date |
| 1 | Xfinity | Richmond | Kyle Busch | 5/14/2004 |
| 2 | Xfinity | Charlotte | Kyle Busch | 5/29/2004 |
| 3 | Xfinity | Kentucky | Kyle Busch | 6/19/2004 |
| 4 | Xfinity | LOR | Kyle Busch | 8/7/2004 |
| 5 | Xfinity | Michigan | Kyle Busch | 8/21/2004 |
| 6 | Truck | Charlotte | Kyle Busch | 5/20/2005 |
| 7 | Xfinity | Charlotte | Kyle Busch | 5/28/2005 |
| 8 | Truck | Dover | Kyle Busch | 6/4/2005 |
| 9 | Cup | Auto Club | Kyle Busch | 9/4/2005 |
| 10 | Truck | Atlanta | Kyle Busch | 10/29/2005 |
| 11 | Cup | Phoenix | Kyle Busch | 11/13/2005 |
| 12 | Xfinity | Bristol | Kyle Busch | 3/25/2006 |
| 13 | Truck | Charlotte | Kyle Busch | 5/19/2006 |
| 14 | Cup | Loudon | Kyle Busch | 7/16/2006 |
| 15 | Cup | Bristol | Kyle Busch | 3/25/2007 |
| 16 | Xfinity | Daytona | Kyle Busch | 7/7/2007 |
| 17 | Xfinity | Richmond | Kyle Busch | 9/7/2007 |
| 18 | Xfinity | Kansas | Kyle Busch | 9/29/2007 |
| 19 | Truck | Atlanta | Kyle Busch | 10/27/2007 |
| 20 | Truck | Phoenix | Kyle Busch | 11/9/2007 |
| 21 | Xfinity | Phoenix | Kyle Busch | 11/10/2007 |
| 22 | Truck | Auto Club | Kyle Busch | 2/23/2008 |
| 23 | Truck | Atlanta | Kyle Busch | 3/7/2008 |
| 24 | Cup | Atlanta | Kyle Busch | 3/9/2008 |
| 25 | Xfinity | Texas | Kyle Busch | 4/5/2008 |
| 26 | Xfinity | Phoenix | Kyle Busch | 4/11/2008 |
| 27 | Xfinity | Mexico City | Kyle Busch | 4/20/2008 |
| 28 | Cup | Talladega | Kyle Busch | 4/27/2008 |
| 29 | Cup | Darlington | Kyle Busch | 5/10/2008 |
| 30 | Xfinity | Charlotte | Kyle Busch | 5/24/2008 |
| 31 | Cup | Dover | Kyle Busch | 6/1/2008 |
| 32 | Cup | Sonoma | Kyle Busch | 6/22/2008 |
| 33 | Cup | Daytona | Kyle Busch | 7/5/2008 |
| 34 | Xfinity | Chicago | Kyle Busch | 7/11/2008 |
| 35 | Cup | Chicago | Kyle Busch | 7/12/2008 |
| 36 | Xfinity | LOR | Kyle Busch | 7/26/2008 |
| 37 | Cup | Watkins Glen | Kyle Busch | 8/10/2008 |
| 38 | Truck | Bristol | Kyle Busch | 8/20/2008 |
| 39 | Xfinity | Auto Club | Kyle Busch | 8/30/2008 |
| 40 | Xfinity | Dover | Kyle Busch | 9/20/2008 |
| 41 | Xfinity | Charlotte | Kyle Busch | 10/10/2008 |
| 42 | Xfinity | Texas | Kyle Busch | 11/1/2008 |
| 43 | Truck | Auto Club | Kyle Busch | 2/21/2009 |
| 44 | Xfinity | Auto Club | Kyle Busch | 2/21/2009 |
| 45 | Cup | Las Vegas | Kyle Busch | 3/1/2009 |
| 46 | Truck | Atlanta | Kyle Busch | 3/7/2009 |
| 47 | Cup | Bristol | Kyle Busch | 3/22/2009 |
| 48 | Xfinity | Texas | Kyle Busch | 4/4/2009 |
| 49 | Xfinity | Richmond | Kyle Busch | 5/1/2009 |
| 50 | Cup | Richmond | Kyle Busch | 5/2/2009 |
| 51 | Xfinity | Nashville | Kyle Busch | 6/6/2009 |
| 52 | Xfinity | Loudon | Kyle Busch | 6/27/2009 |
| 53 | Xfinity | Gateway | Kyle Busch | 7/18/2009 |
| 54 | Truck | Bristol | Kyle Busch | 8/19/2009 |
| 55 | Cup | Bristol | Kyle Busch | 8/22/2009 |
| 56 | Truck | Chicago | Kyle Busch | 8/28/2009 |
| 57 | Truck | Loudon | Kyle Busch | 9/19/2009 |
| 58 | Xfinity | Charlotte | Kyle Busch | 10/16/2009 |
| 59 | Truck | Talladega | Kyle Busch | 10/31/2009 |
| 60 | Truck | Texas | Kyle Busch | 11/6/2009 |
| 61 | Xfinity | Texas | Kyle Busch | 11/7/2009 |
| 62 | Xfinity | Homestead | Kyle Busch | 11/21/2009 |
| 63 | Xfinity | Auto Club | Kyle Busch | 2/20/2010 |
| 64 | Truck | Nashville | Kyle Busch | 4/2/2010 |
| 65 | Xfinity | Phoenix | Kyle Busch | 4/9/2010 |
| 66 | Xfinity | Texas | Kyle Busch | 4/19/2010 |
| 67 | Cup | Richmond | Kyle Busch | 5/1/2010 |
| 68 | Xfinity | Dover | Kyle Busch | 5/15/2010 |
| 69 | Cup | Dover | Kyle Busch | 5/16/2010 |
| 70 | Truck | Charlotte | Kyle Busch | 5/21/2010 |
| 71 | Xfinity | Charlotte | Kyle Busch | 5/29/2010 |
| 72 | Xfinity | Loudon | Kyle Busch | 6/26/2010 |
| 73 | Xfinity | Chicago | Kyle Busch | 7/9/2010 |
| 74 | Xfinity | LOR | Kyle Busch | 7/24/2010 |
| 75 | Xfinity | Iowa | Kyle Busch | 7/31/2010 |
| 76 | Truck | Bristol | Kyle Busch | 8/18/2010 |
| 77 | Xfinity | Bristol | Kyle Busch | 8/20/2010 |
| 78 | Cup | Bristol | Kyle Busch | 8/21/2010 |
| 79 | Truck | Chicago | Kyle Busch | 8/27/2010 |
| 80 | Truck | Loudon | Kyle Busch | 9/18/2010 |
| 81 | Xfinity | Dover | Kyle Busch | 9/25/2010 |
| 82 | Xfinity | Auto Club | Kyle Busch | 10/9/2010 |
| 83 | Truck | Talladega | Kyle Busch | 10/30/2010 |
| 84 | Truck | Texas | Kyle Busch | 11/5/2010 |
| 85 | Truck | Homestead | Kyle Busch | 11/19/2010 |
| 86 | Xfinity | Homestead | Kyle Busch | 11/20/2010 |
| 87 | Truck | Phoenix | Kyle Busch | 2/25/2011 |
| 88 | Xfinity | Phoenix | Kyle Busch | 2/26/2011 |
| 89 | Xfinity | Bristol | Kyle Busch | 3/19/2011 |
| 90 | Cup | Bristol | Kyle Busch | 3/20/2011 |
| 91 | Xfinity | Auto Club | Kyle Busch | 3/26/2011 |
| 92 | Xfinity | Talladega | Kyle Busch | 4/16/2011 |
| 93 | Truck | Nashville | Kyle Busch | 4/22/2011 |
| 94 | Cup | Richmond | Kyle Busch | 4/30/2011 |
| 95 | Xfinity | Darlington | Kyle Busch | 5/6/2011 |
| 96 | Truck | Dover | Kyle Busch | 5/13/2011 |
| 97 | Truck | Charlotte | Kyle Busch | 5/20/2011 |
| 98 | Truck | Kentucky | Kyle Busch | 7/7/2011 |
| 99 | Cup | Kentucky | Kyle Busch | 7/9/2011 |
| 100 | Xfinity | Loudon | Kyle Busch | 7/16/2011 |
| 101 | Cup | Michigan | Kyle Busch | 8/21/2011 |
| 102 | Xfinity | Bristol | Kyle Busch | 8/26/2011 |
| 103 | Xfinity | Richmond | Kyle Busch | 9/9/2011 |
| 104 | Truck | Loudon | Kyle Busch | 9/24/2011 |
| 105 | Cup | Richmond | Kyle Busch | 4/28/2012 |
| 106 | Xfinity | Phoenix | Kyle Busch | 3/2/2013 |
| 107 | Xfinity | Bristol | Kyle Busch | 3/16/2013 |
| 108 | Xfinity | Auto Club | Kyle Busch | 3/23/2013 |
| 109 | Cup | Auto Club | Kyle Busch | 3/24/2013 |
| 110 | Xfinity | Texas | Kyle Busch | 4/12/2013 |
| 111 | Cup | Texas | Kyle Busch | 4/13/2013 |
| 112 | Xfinity | Darlington | Kyle Busch | 5/10/2013 |
| 113 | Truck | Charlotte | Kyle Busch | 5/17/2013 |
| 114 | Xfinity | Charlotte | Kyle Busch | 5/25/2013 |
| 115 | Truck | Dover | Kyle Busch | 5/31/2013 |
| 116 | Xfinity | Loudon | Kyle Busch | 7/13/2013 |
| 117 | Xfinity | Indianapolis | Kyle Busch | 7/27/2013 |
| 118 | Cup | Watkins Glen | Kyle Busch | 8/11/2013 |
| 119 | Truck | Bristol | Kyle Busch | 8/21/2013 |
| 120 | Xfinity | Bristol | Kyle Busch | 8/23/2013 |
| 121 | Cup | Atlanta | Kyle Busch | 9/1/2013 |
| 122 | Truck | Chicago | Kyle Busch | 9/13/2013 |
| 123 | Xfinity | Chicago | Kyle Busch | 9/14/2013 |
| 124 | Xfinity | Charlotte | Kyle Busch | 10/11/2013 |
| 125 | Xfinity | Phoenix | Kyle Busch | 11/9/2013 |
| 126 | Truck | Homestead | Kyle Busch | 11/15/2013 |
| 127 | Truck | Daytona | Kyle Busch | 2/21/2014 |
| 128 | Xfinity | Phoenix | Kyle Busch | 3/1/2014 |
| 129 | Xfinity | Bristol | Kyle Busch | 3/15/2014 |
| 130 | Cup | Auto Club | Kyle Busch | 3/23/2014 |
| 131 | Truck | Kansas | Kyle Busch | 5/9/2014 |
| 132 | Truck | Charlotte | Kyle Busch | 5/16/2014 |
| 133 | Truck | Dover | Kyle Busch | 5/30/2014 |
| 134 | Xfinity | Dover | Kyle Busch | 5/31/2014 |
| 135 | Truck | Kentucky | Kyle Busch | 6/26/2014 |
| 136 | Xfinity | Richmond | Kyle Busch | 9/5/2014 |
| 137 | Truck | Chicago | Kyle Busch | 9/13/2014 |
| 138 | Xfinity | Dover | Kyle Busch | 9/27/2014 |
| 139 | Xfinity | Kansas | Kyle Busch | 10/4/2014 |
| 140 | Truck | Texas | Kyle Busch | 10/31/2014 |
| 141 | Xfinity | Texas | Kyle Busch | 11/1/2014 |
| 142 | Xfinity | Michigan | Kyle Busch | 6/13/2015 |
| 143 | Cup | Sonoma | Kyle Busch | 6/28/2015 |
| 144 | Cup | Kentucky | Kyle Busch | 7/11/2015 |
| 145 | Cup | Loudon | Kyle Busch | 7/19/2015 |
| 146 | Xfinity | Indianapolis | Kyle Busch | 7/25/2015 |
| 147 | Cup | Indianapolis | Kyle Busch | 7/26/2015 |
| 148 | Truck | Pocono | Kyle Busch | 8/1/2015 |
| 149 | Truck | Michigan | Kyle Busch | 8/15/2015 |
| 150 | Xfinity | Bristol | Kyle Busch | 8/21/2015 |
| 151 | Xfinity | Chicago | Kyle Busch | 9/19/2015 |
| 152 | Xfinity | Kansas | Kyle Busch | 10/17/2015 |
| 153 | Xfinity | Phoenix | Kyle Busch | 11/14/2015 |
| 154 | Cup | Homestead | Kyle Busch | 11/22/2015 |
| 155 | Xfinity | Atlanta | Kyle Busch | 2/27/2016 |
| 156 | Xfinity | Las Vegas | Kyle Busch | 3/5/2016 |
| 157 | Xfinity | Phoenix | Kyle Busch | 3/12/2016 |
| 158 | Truck | Martinsville | Kyle Busch | 4/2/2016 |
| 159 | Cup | Martinsville | Kyle Busch | 4/3/2016 |
| 160 | Xfinity | Texas | Kyle Busch | 4/8/2016 |
| 161 | Cup | Texas | Kyle Busch | 4/9/2016 |
| 162 | Cup | Kansas | Kyle Busch | 5/7/2016 |
| 163 | Xfinity | Kentucky | Kyle Busch | 7/8/2016 |
| 164 | Xfinity | Loudon | Kyle Busch | 7/16/2016 |
| 165 | Xfinity | Indianapolis | Kyle Busch | 7/23/2016 |
| 166 | Cup | Indianapolis | Kyle Busch | 7/24/2016 |
| 167 | Xfinity | Richmond | Kyle Busch | 9/9/2016 |
| 168 | Truck | Chicago | Kyle Busch | 9/16/2016 |
| 169 | Xfinity | Kansas | Kyle Busch | 10/15/2016 |
| 170 | Xfinity | Phoenix | Kyle Busch | 11/12/2016 |
| 171 | Xfinity | Atlanta | Kyle Busch | 3/4/2017 |
| 172 | Truck | Kansas | Kyle Busch | 5/12/2017 |
| 173 | Truck | Charlotte | Kyle Busch | 5/19/2017 |
| 174 | Xfinity | Kentucky | Kyle Busch | 7/8/2017 |
| 175 | Xfinity | Loudon | Kyle Busch | 7/15/2017 |
| 176 | Cup | Pocono | Kyle Busch | 7/30/2017 |
| 177 | Xfinity | Watkins Glen | Kyle Busch | 8/5/2017 |
| 178 | Truck | Bristol | Kyle Busch | 8/16/2017 |
| 179 | Xfinity | Bristol | Kyle Busch | 8/18/2017 |
| 180 | Cup | Bristol | Kyle Busch | 8/19/2017 |
| 181 | Cup | Loudon | Kyle Busch | 9/24/2017 |
| 182 | Cup | Dover | Kyle Busch | 10/1/2017 |
| 183 | Cup | Martinsville | Kyle Busch | 10/29/2017 |
| 184 | Truck | Las Vegas | Kyle Busch | 3/2/2018 |
| 185 | Cup | Texas | Kyle Busch | 4/8/2018 |
| 186 | Cup | Bristol | Kyle Busch | 4/16/2018 |
| 187 | Cup | Richmond | Kyle Busch | 4/21/2018 |
| 188 | Cup | Charlotte | Kyle Busch | 5/27/2018 |
| 189 | Xfinity | Pocono | Kyle Busch | 6/2/2018 |
| 190 | Cup | Chicago | Kyle Busch | 7/1/2018 |
| 191 | Truck | Pocono | Kyle Busch | 7/28/2018 |
| 192 | Cup | Pocono | Kyle Busch | 7/29/2018 |
| 193 | Cup | Richmond | Kyle Bush | 9/22/2018 |
| 194 | Cup | Phoenix | Kyle Busch | 11/11/2018 |
| 195 | Truck | Atlanta | Kyle Busch | 2/23/2019 |
| 196 | Truck | Las Vegas | Kyle Busch | 3/1/2019 |
| 197 | Xfinity | Las Vegas | Kyle Busch | 3/2/2019 |
| 198 | Xfinity | Phoenix | Kyle Busch | 3/9/2019 |
| 199 | Cup | Phoenix | Kyle Busch | 3/10/2019 |
| 200 | Cup | Auto Club | Kyle Busch | 3/17/2019 |