In many ways, Sunday's final lap of the Daytona 500 was a classic David vs. Goliath situation for Michael McDowell.
There was McDowell as David, in the No. 34 Front Row Motorsports Ford Mustang, doing battle with the Goliath likes of eventual winner Denny Hamlin, Joey Logano and Kyle Busch.
Although Logano complained post-race that McDowell should have pushed him on the final lap, as they both drive Fords, McDowell chose to push Busch's Toyota instead, hoping for an even higher finish than the fifth-place showing he scored.
McDowell was on SiriusXM NASCAR Radio's On Track with Danielle Trotta and Brendan Gaughan Tuesday afternoon and talked about his finish, what he might have done different, and Logano's post-race seething.
MORE: Bump & Run: Should Michael McDowell have pushed fellow Ford at end of Daytona 500?
McDowell made it very clear that he was going for the win, and whether or not that may have hurt Logano's feelings, he was more concerned about seeking the best finish in his Cup career – and potentially his first win.
"You know you're not going to have 100 opportunities to be in the top three or four of the Daytona 500 and have a shot at winning the race," McDowell said. "I was just laying everything on the line."
While he admitted he "wasn't able to keep the momentum going and pull it off" on the final lap, McDowell said he was caught up in the moment and was battling perhaps as hard as he ever has in a race.
"You're fighting as hard as you can just to stay wedged up in that top five, and knowing you have some really fast cars around you, you go on both offense and defense," McDowell said. "We didn't quite have the outright speed we needed to be a line leader, so to speak, so you're guarding the front and back and trying to keep yourself wedged up in there and not spit out.
"Coming to the white flag, I was on the outside kind of by myself a little bit, and I knew eventually they were going to fan out. I was able to get some big momentum on the back straightaway. You watch the replay 100 times and say, 'Man, I wish I would have done this, this or this.' But in the moment, you make your decision and stick with it. It's great to get out of there with a top five."
When asked about the criticism from Logano about not pushing a fellow Ford driver, McDowell broke things down into two parts: the race, and the post-race.
"It's the last lap of the Daytona 500, I don't care who's in front of me," he said. "I would love to tell you I was that smart and strategic and I was thinking about all the drivers and manufacturers and who to go with and who not to go with, but I'm not, I'm fighting my tail off just to stay wedged up in there. That's the reality of what happened on the racetrack.
"The off-track part is where my comments came from and why I was upset. Joey was livid that I didn't go with him. He was talking he was driving a Ford, brand loyalty, pointing to the blue oval and I get it. If I could have, I would have loved to do it.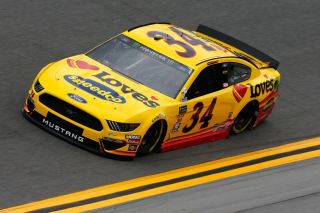 "It all sounds good in a fairy-tale world, but in reality, I made the decision I made and it was the last lap of the Daytona 500. It is what it is. I wasn't crying when Clint Bowyer put me three-wide on the back straightaway. I'm a Ford, I'm leading the pack, stay with me. That's not racing. So I take it with a grain of salt, emotions are high and everybody's wanting to win and we were all going for it. I'm sure Joey would have loved for me to push him, but it just didn't work out."
It was McDowell's second-best career finish at Daytona. His best effort there was a fourth-place finish in the July 2017 Coke Zero 400. In 16 career starts at the 2.5-mile superspeedway, McDowell has two top-fives and four top 10s (all in his last six starts there).
"Somebody told me I had 6 or 7 top 10s at Daytona and I said, 'No way, you're out of your mind,'" McDowell said. "But over the years, it's just worked out well for me there. I love plate racing and superspeedway racing and I've grown to enjoy it."
McDowell's Daytona performance boosts his confidence. He believes his first in Cup could pbe coming.
"That's what's cool about our sport, you're only one race away," he said. "You're one race away from being in the playoffs, you're only one race away from winning the 500, and you're only one race away from locking down another great sponsor and making your program better. Every race counts, every opportunity counts. It's just a matter of making the most of it."
"There's opportunity in the first five to 10 races (with the new rules package intended to tighten the field) that if you get a late-race green-white-checker restart, you weasel your way into the top five, you can put yourself into a spot like we were in at Daytona. I don't think that was possible last year. The speed differential between the haves and have-nots was so big that you weren't going to sneak a win.
"I really do believe that there'll be surprise winners this year and some crazy, exciting finishes. I do look forward to it."