NBC Sports kicks off a new weekly feature today with Power Rankings. The NASCAR Talk staff has come together to give its take on who's hot, warm and even lukewarm.
Power Rankings will appear each Wednesday morning. Also on Wednesdays, the NASCAR America analysts will dissect the rankings and give their own takes.
Any driver in the Cup, Xfinity and Gander Outdoors Truck Series is eligible for these rankings.
Kyle Busch is at the top of the first edition of Power Rankings, just in time for Sunday's Daytona 500:
1. Kyle Busch: Comes into the season with the most Cup wins in the last four years
2. Jimmie Johnson: Speedweeks 2019 couldn't have started any better.
3. Brad Keselowski (tie): He was dicing with Menard for a while in the Clash and remains an odds-on favorite for Sunday
3. Joey Logano (tie): His title defense started without a major crash, which is more than can be said for many contenders
5. Kurt Busch: Among the strongest Chevrolets and seems to be blending well into Chip Ganassi Racing
6. Kevin Harvick: Should have most Cup wins last four years, but has left several wins on the table
7. Paul Menard: The Clash didn't end the way he wanted, but Wood Brothers Racing can now be considered a Daytona 500 favorite
8. Martin Truex Jr. (tie): New team, same results. See ya in Victory Lane several times in 2019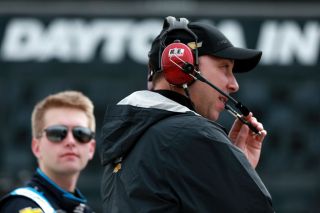 8. William Byron (tie): Chad Knaus got him the Daytona 500 pole. Can he now get Byron the win on Sunday?
10. Chase Elliott: Can he and Johnson lead a Hendrick juggernaut in the 500 like they did in qualifying?
Others receiving votes: Alex Bowman, Ryan Blaney, Kyle Larson, Austin Dillon, Aric Almirola, Tyler Reddick, Christopher Bell, Denny Hamlin and Brett Moffitt.