There are "a lot of conversations" from Feb. 18, 2001 that Mike Helton will "probably take to my grave."
Those conversations resulted in Helton, now NASCAR's Vice Chairman, revealing to the world that day that Dale Earnhardt had been killed in a wreck on the last lap of the Daytona 500.
"By then I think of most of the industry had figured it out. But we had to authenticate it and make it official," Helton said in the latest episode of "Coffee with Kyle."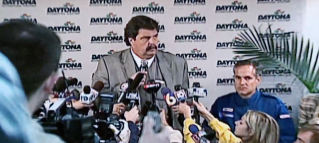 "I got picked to do it," Helton told Kyle Petty. "I said, I used some adult words, 'But we just lost the biggest thing in our sport. What am I going to say?'
"Brian France or maybe Paul Brooks or somebody said, 'Well, that's what you say, we just lost the biggest thing in our sport today.'"
Eighteen years later, Helton thinks he knows "more about what I said later on looking at it than I did at the moment of saying it. Because it was tough."
In the wake of Earnhardt's death, Helton said NASCAR leadership recognized how much it relied on The Intimidator's voice in the garage.
"We couldn't tap the next Dale Sr. on the shoulder and say, 'You're it,'" Helton said. "It needed to be organic out of the garage area. We were kind of settling in to see who that would be. (Jeff) Gordon wasn't ready to accept it, although people said, 'You should and you need to.' But Rusty Wallace, Dale Jarrett and Bobby Labonte, those individuals banded together to do it as a group instead of an individual until Gordon was ready to be that voice."
But in the nearly two decades since, Helton said there hasn't been a driver voice that's emerged that has been as "strategic and as pragmatic" as that of Earnhardt.
Watch the above video for more of Kyle Petty's interview with Helton.