Kevin Harvick has gone from humble roots in his native Bakersfield, California, to the highest levels of NASCAR racing, including the 2014 Cup championship.
But even with all the success he's had in his racing career, Harvick has never forgotten where he came from, namely grassroots racing.
That love for the sport at its most basic level has prompted Harvick and his KHI Management firm to partner with NASCAR's newest sanctioned racetrack – All American Speedway in Roseville, Calif. – for a unique contingency awards program.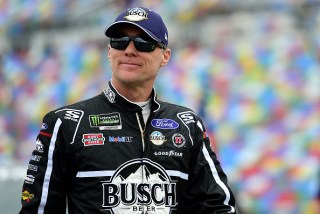 Known as the KHI Management 4 Award, the partnership will provide $150 cash prizes for competitors in All American Speedway's Division 1 Late Model class who are running in fourth place at the halfway point of each race there, as well as for finishing fourth in the same race.
In addition, full-time competitors in Junior Late Model, Limited Modified and the Super Stock divisions also will be eligible for KHI Management awards for fourth-place finishes in their own races.
"Someone like Kevin, who rose up the ladder of NASCAR racing from the weekly track level up to Cup champion, stepping up and helping give back to local grassroots racing – it speaks volumes," track promoter Bill McAnally said in a media release. "It shows an understanding of the value that the weekly tracks play to make NASCAR what it is."
The All American Speedway's season opens April 13 with eight main events scheduled. Weekly track championship battles will run until Nov. 2.