Austin Dillon had no inside knowledge of the Charlotte Panthers' plans before the 2017 NFL draft.
But he somehow knew he would be making a future connection with Christian McCaffery.
"I hit him up when he was at Stamford because I was a fan watching him run these crazy 100-yard runs that no one could tackle him," Dillon said on the most recent NASCAR on NBC Podcast. "Getting close to the NFL draft time, I hit him up on DM (direct message) and said, 'Hey man, I think you're going to get drafted by the Panthers. I feel it.' "
The Panthers took the running back with the eighth pick, and Dillon immediately rolled out the red carpet.
"I told him 'Dude, you're coming here, you don't know anybody. When you get here, hit me up, we'll hang out,'" Dillon said on the podcast. "I got his number, and we started texting."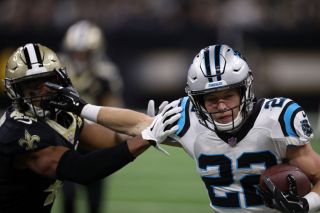 As McCaffrey adjusted to the rigors of being an NFL rookie, he and Dillon didn't spend much time together until after the '17 season. McCaffrey and several other Panthers players came to the All-Star Race last year. "That was the first time we met," Dillon said. "He had a blast, hung out with us, saw the All-Star Race, and afterward, he was ready to beat Jamie McMurray up. He said the 1 car was in my way. I said, 'Man, it's just racing all good.' "
Dillon and McCaffrey since have hung out more often and now share the same hair stylist.
McCaffrey is planning to be at Daytona International Speedway this weekend to attend his second Cup race, watching as Dillon attempts to repeat as the Daytona 500 champion.
"That's going to be cool," Dillon said. "Yeah, I'm glad he's going to come enjoy that in his offseason. He's so strict about what he does during the season and the offseason, he's just a legend when it comes to training and taking care of his body, diet. He's really serious. If you can get him to slip out, it's once in a lifetime because he's so focused on his craft."
McCaffrey's training regimen has inspired Dillon to change his diet and get fit.
"We went to dinner, and they chose this spot in downtown Charlotte, all organic stuff," Dillon said. "He talked about things he doesn't eat. I was doing that a couple of years ago and stopped. I was eating right. No bread, no cheese before. But (McCaffrey) takes it to another level with certain things. I'm going to learn more from him this year. Might stop out in Colorado to talk about his diet and the people he uses."
During the podcast, Dillon also discusses:
–His relationship with crew chief Danny Stockman, who taught him many lessons about racing in winning Xfinity and truck championships. The pair are being reunited in Cup this season;
–Why he thinks the 2019 rules package will benefit him;
–His enthusiasm about NASCAR's foray into eSports;
–His unique perspective on how young drivers and veterans view racing ethics differently.
You can listen to the podcast by clicking above or on Apple Podcasts, Spotify, Stitcher, Google Play and wherever you download podcasts.