DAYTONA BEACH, Fla. —  Daniel Smith stepped up to the pit wall to no fanfare. Those around Kevin Harvick's stall focused on the cars heading toward pit road during Sunday's Clash at Daytona instead of on the 34-year-old father of three young children.
The fans missed Smith crouch as Harvick's car approached, then spring off the wall once the car stopped. Smith changed the right rear wheel, sprinted around the car's rear to the left side and changed that wheel.
He was done in seconds.
Only a couple of hours earlier, the thought of doing something so common in a NASCAR race nearly brought Smith to tears.
Diagnosis
The call came the week of the Bristol night race last August, just two months after the birth of Smith's third child.
Smith had cancer.
"Me and my wife sat on the living room floor and cried our eyes out," he said.
Smith's doctor couldn't say to what extent Smith had cancer and if it had spread. More tests were needed. Smith's mind raced.
"I just wanted to be alive to raise my kids," said Smith, whose oldest child is 4 years old.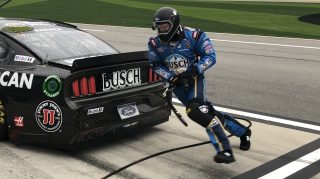 Smith spent the day before the Bristol race undergoing scans, blood work and other tests to determine if his testicular cancer had spread.
It had.
The cancer had infected two lymph nodes in his lower abdomen and doctors also saw a spot on Smith's lung that was concerning. The cancer was not found anywhere else.
About 24 hours later, Smith stood on the pit wall at Bristol Motor Speedway to pit Harvick's car that night. Smith knew it could be the last time he would pit the car in a while, maybe ever.
The previous weekend Smith had been in Victory Lane after Harvick's win at Michigan. Now Smith prepared for an uncertain future.
Recovery
Two days after the Bristol race, Smith was in surgery so doctors could remove the tumor from one of his testicles. After a few weeks to heal, chemotherapy treatments began.
Each round of treatment consisted of one week in a hospital and two weeks of recovery. Doctors ordered four rounds — 12 weeks — of this treatment.
"You can't leave the unit," Smith said of when he was in the hospital. "You're hooked up either to a chemo cord or your IV all day long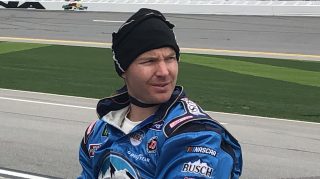 "After that first round, you don't feel so bad. Each round, they knock you down a little bit more. You don't get time to build all the way back up to where you were so each round got a little bit tougher."
All the fluids made him gain weight. The chemo sapped his strength and soon his hair was falling out.
Smith soon could no longer do 10 push-up before quitting.
That was tough on the athletic Smith, who joined what was then Haas-CNC Racing in 2004 and worked his way to the pit crew. He remained with the team when it was renamed Stewart-Haas Racing and was a pit crew member on Tony Stewart's 2011 championship team. Smith and his teammates were moved to Kevin Harvick's team shortly before the 2014 Chase and helped Harvick win the title that year.
Smith focused on returning to the pit crew for 2019. He worked out as best he could when he was in the hospital and at home.
"It was a lot of days of just not feeling like doing anything, but I knew I needed to and just pushed myself," he said.
Daytona
As Smith recovered, the NASCAR season continued. Harvick advanced to the Championship 4 at Miami. Smith went to that race in hopes of celebrating another title but Joey Logano won the race and the championship.
Smith's recovery continued in the offseason as he rebuilt the strength.
After arriving at Daytona on Sunday, all that he had done to get to that day hit him.
"Just the journey," Smith said, his voice quivering. "I get emotional now thinking about it. Everything that me and my family has gone through to get to this point and all the people that have helped us. I'll be thinking about all those people that were so gracious to us and helped us out and being with my guys. My guys are like my brothers.
"It's going to be me holding back tears, but they're going to be good tears."
One more challenge
Although Smith has returned to pit Harvick's car, he will miss some races later this spring. Doctors want to remove the two lymph nodes that the cancer infected. The plan is to have those removed in either March or April. The operation will enhance his chances of a full recovery.