Chase Elliott will drive JR Motorsports' No. 8 Chevrolet in the Xfinity Series season-opener at Daytona International Speedway on Feb. 16, the team announced Thursday.
The NASCAR Racing Experience 300 will mark a return of sorts for Elliott, who earned JR Motorsports' first NASCAR championship when he captured the 2014 Xfinity Series title. He also won the 2016 Xfinity opener for JRM.
"This is more than just putting a driver in a car," JRM general manager Kelley Earnhardt Miller said in a media release. "Chase is family to us and an integral part of our history.
"He helped kick-start our run of championships back in 2014 and has driven our cars to victory in several prestigious events, including a win at Daytona in 2016. We jumped at the chance of having one of our own return for this race."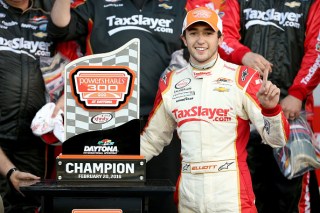 The car will be sponsored in the race by AfterShokz, a headphone brand and current partner of Elliott, who was voted NASCAR Cup's Most Popular Driver in 2018.
"I'm looking forward to getting back behind the wheel for JRM in Daytona," Elliott said. "Kelley, Dale (Earnhardt Jr.) and the entire organization have been so great to work with over the years. We won this race back in 2016, and this year we're looking to get back into victory lane with AfterShokz."
Elliott, who earned his first three NASCAR Cup wins last season, has five career Xfinity Series wins, all with JRM.
The 23-year-old Elliott, son of NASCAR Hall of Famer Bill Elliott, will be one of several drivers who will pilot the No. 8 Xfinity Chevy in 2019 for JRM. The other drivers include Jeb Burton, team owner Dale Earnhardt Jr., Spencer Gallagher, Ryan Preece, Zane Smith and Ryan Truex.
Other drivers for JRM in the Daytona Xfinity opener include Michael Annett (No. 1 Pilot Flying J Chevrolet), Justin Allgaier (No. 7 BRANDT Professional Agriculture Chevrolet) and Noah Gragson (No. 9 Chevrolet).