Josh Bilicki has joined Ryan Sieg Racing to compete full-time in the Xfinity Series this season.
Bilicki will drive the No. 38 Chevrolet and be sponsored by Dr. Squatch Soap Co. for the Feb. 16 season-opener at Daytona International Speedway.
Bilicki has 38 Xfinity starts since 2016 but has never competed in every race in a season. He competed in 29 of 33 races last year.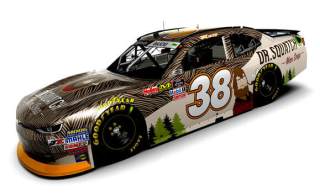 "I'm very thankful to R.S.S. Racing for this opportunity," Bilicki said in a press release. "Last year was a learning year for me, especially seeing and driving fifteen of the tracks for the first time. I feel comfortable at every track now, and R.S.S. has cars and equipment capable of finishing upfront, which excites me. I've been around the team a handful of times and I think that this is a natural fit. I'm equally just as excited to be bringing a brand-new partner into NASCAR, Dr. Squatch Soap Co.! One hundred percent of the company's products are made right here in the United States, and I feel that's a very important stat for the NASCAR community."
Bilicki joins a driver roster that includes Ryan Sieg and 2000 Xfinity champion Jeff Green.