Thad Moffitt, the 18-year-old grandson of NASCAR Hall of Famer Richard Petty, will make his Daytona International Speedway debut in the ARCA Racing Series season-opening race on February 9.
Moffitt, who has eight previous ARCA starts over the last two seasons, will compete in the Lucas Oil 200 Driven By General Tire. He'll pilot the No. 46 Performance Plus Motor Oil Chevrolet in a car prepared by Empire Racing Group (ERG).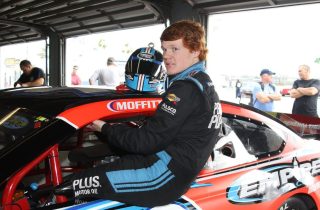 Moffitt's first start at Daytona will also mark the 40th anniversary of uncle and NBC Sports NASCAR analyst Kyle Petty's ARCA debut at Daytona (his first stock car race start), which ended with a victory.
"This is Daytona, and it means so much to my family," Moffitt said in a media release. "Testing last year just gave me that desire to race here. I know what Uncle Kyle did in his first ARCA start here – he won the race.
"It would be amazing to accomplish that same feat 40 years later. We had a good test session and I have more experience in the draft, too. I'm ready to go and look forward to that green flag coming down."
Moffitt recently took part in an ARCA test at Daytona in preparation for his first start at the legendary track where his grandfather earned 10 wins in 74 career starts, including capturing the Daytona 500 seven times. Moffitt also went through last year's preseason ARCA test at Daytona, but was too young to compete in the race.
"Growing up, I went to Daytona every February and July," Moffitt said. "I loved watching the '43' race and watching Uncle Kyle. It's cool to finally have my turn. Daytona is a big part of our family history. It started with my great grandfather, Lee, and has been passed down. It feels like a rite of passage to race at Daytona. I'm ready to start our race season in February."
Moffitt's best ARCA finish to date has been 10th at Toledo last season. He will make select starts in the No. 46 through the course of the series' 20-race season.