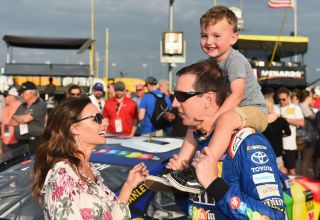 Six Charlotte-area couples will share $100,000 in grant money to assist with in vitro fertilization (IVF) efforts from the Kyle and Samantha Busch Bundle of Joy Fund, the Fund announced recently.
This is the eighth and largest round of "Bundle of Joy" grants issued since the Fund was created in 2015, following Kyle's and Samantha's IVF journey to conceive son Brexton.
"Kyle and I have heard so many stories of couples struggling to conceive a child of their own," Samantha Busch said in a statement. "From unexplained infertility to a cancer diagnosis, there are multiple variables that may eventually lead to the difficult path of IVF.
"We strongly believe that every journey to parenthood is unique and even though sometimes it can't happen the natural way, everyone deserves a chance to try and have their own child without worrying about the cost or judgement."
IVF, which is a process that mixes eggs and sperm in a lab dish to create an embryo, is a costly procedure that typically is not covered by most insurance companies.
One of the recipient couples, Sharika and Gabriel Ramseur, have been trying to conceive for much of their seven years of marriage.
"This is something we had prayed about for so long and then to suddenly receive that gift (from the Fund)," Gabriel Ramseur told the Gaston (North Carolina) Gazette. "I can't describe it."
Added Sharika Ramseur to the Gazette, "The Buschs spoke with us, encouraged us, supported us and told us to stay in touch throughout the process. They could not have been more understanding toward us."
MORE: Sharing the Joy: Through their charity, Kyle and Samantha Busch are helping couples conceive
MORE: Bundle of Joy provides families with play date they never could have imagined
The six couples will receive between $10,000 and $25,000 from the Fund for treatments at the Reproductive Endocrinology Associates of Charlotte, also known as REACH.
"Over the last four years, I am proud to say that the Kyle and Samantha Busch Bundle of Joy Fund has helped 37 couples overcome the financial burden of fertility treatments with nearly $500,000 awarded," Samantha Busch said. "We now have 16 'Bundle of Joy' babies with five more due in 2019 and are beyond thrilled for this next round of recipients as they begin the process to have their own bundle of joy.
"The 'Bundle of Joy Fund' began as a way for Kyle and I to help alleviate the financial burden couples are faced with during fertility treatments, but I don't think we realized the significant impact it would end up having on our life. Every round of grants means Kyle, Brexton and I get to welcome more amazing couples into our growing  'Bundle of Joy' family, and that fills our hearts with so much happiness."
Click here to read more about the most recent grants, as well as to learn more about the Kyle Busch Foundation Bundle of Joy Fund, click here.