Austin Hill will drive for Hattori Racing Enterprises in the Gander Outdoors Truck Series this season, the team announced Tuesday.
Hill takes over the No. 16 Toyota from Brett Moffitt, who won six races and the series title for the team last year. Moffitt revealed in early December that he would not be returning to the team due to a lack of sponsorship.
Moffitt has not announced any plans for 2019.
A native of Winston, Georgia, Hill is a former member of the NASCAR Next program who competed full-time for Young's Motorsports in the Truck Series last year and finished 11th in the standings.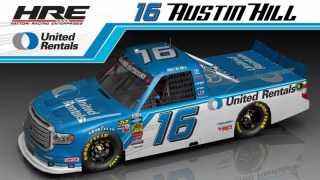 Hill has 51 Truck starts since 2014 with one top five in last November's race at Texas Motor Speedway
He also earned five K&N Pro Series East wins from 2013-15.
The No. 16 will be sponsored by Toyota autodealer Chiba Toyopet in the season opener at Daytona. United Rentals will be a sponsor in multiple races. The team was sponsored by Ibaraki Toyopet and Kobe Toyopet in one race each in 2018.
"I'm thrilled to join HRE this season," Hill said a press release. "(Owner) Shige (Hattori) has built a great team and what they accomplished last season has me extremely optimistic heading to Daytona. I've had the pleasure to work with great teams in the past, including my family's team in the K&N Series, but this is an opportunity of a lifetime at HRE. Scott and the team proved what they're capable of last season, and I can't wait to get to work and see what we can accomplish this season."
Scott Zipadelli will return as the team's crew chief.
"I'm really looking forward to racing with Austin and continuing our team's success," Zipadelli said in the press release. "Austin is a great kid and has a lot of potential. He has a great track record in the K&N Series and put together a strong year last season with Young's Motorsports. I think he'll transition well into our program and fit right in with our group."
Hattori also announced this week it will return to competition in the K&N Pro Series East with Max McLaughlin in the No. 1 Toyota.
McLaughlin's team will run engines prepared by students from NASCAR Technical Institute's (NTI) Spec Engine Program.