With the completion of the season, I often go back and look at the photos I've taken on my phone and reflect upon the special pictures.
Here are 10 photos I took that stood out to me as I looked back upon the 2018 season.
For those who question if Paul Menard smiles. He does. Here he is doing an interview with NBC Sports during media day in January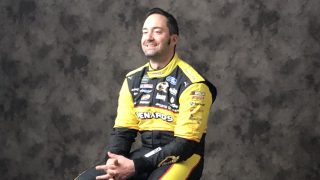 Clint Bowyer with son Cash in the media center after Bowyer ended a 190-race winless streak by winning that event in March.
This is among my favorite pictures just for the girl's reaction at getting Kyle Busch's autograph as he headed to the drivers meeting at Bristol in April. Busch would go on to win that race.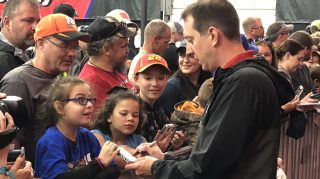 Michael Riggs, shock specialist for Bubba Wallace's Richard Petty Motorsports team, sets the scales for the team at Bristol in August. Another one of my favorites in how it shows the work of a crew member that most people don't see.
NASCAR Hall of Famer Leonard Wood sits on the pit wall during the Southern 500 as William Byron races by in a Jeff Gordon Rainbow Warriors paint scheme. So much history in this picture.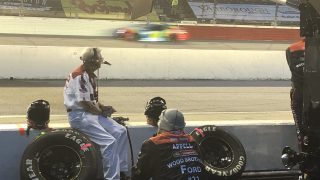 Garrett Smithley hugs Ross Chastain in Victory Lane after Chastain won the Las Vegas Xfinity race in September for Chip Ganassi Racing.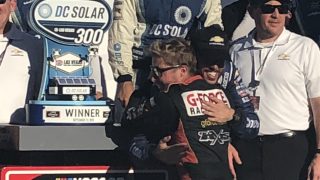 Jimmie Johnson played a joke on Martin Truex Jr.'s team at Dover, a week after Johnson's contact spun Truex in the final chicane and cost Truex the win at the Charlotte Roval.
Johnson was allowed in the Dover garage after it closed and put about a dozen children's bikes on the lift gate of Furniture Row Racing's hauler.
"Cole (Pearn) made a comment to me at the end of last weekend when we were leaving the track all in good fun," Johnson said at Dover. "I saw some of his crew guys when I came back from a bike ride on Friday, and one of them grabbed my bike and said, 'Oh, hey, is this my nice, new bike that Cole was talking about?' "
"So, as I shared that story with my team, the ideas started flowing, and we … sent my bus driver off to Walmart where they had some pre-assembled bikes and had some fun with it."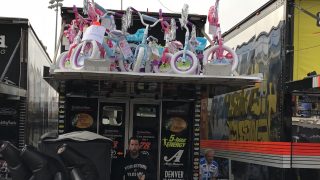 Aric Almirola after he failed to win the Dover playoff race in October. Not much else needs to be said.
David Gilliland, who won the pole for the Camping World Truck Series race at Talladega Superspeedway in October, holds a puppy his family adopted earlier that week.
Ray Gallahan, fueler for Joey Logano's team, watches the team spray each other with champagne after Logano won the championship. It was Gallahan's last race going over the wall. He sat back to take it all in and to avoid be "sticky" from the champagne.