Michael McDowell is known for his expertise on road courses but when he exited his car at Sonoma in June, the Front Row Motorsports driver physically didn't feel good after his 21st-place finish.
"You always want to perform your best, so I wanted to change it up," he told NBC Sports.
McDowell, who has always been among the bigger Cup drivers, switched to the Ketogenic diet, a low-carb, high-fat diet that makes the body more efficient at burning fat for energy.
"I'm looking at this nutritional plan, I'm like 'Good God this can't be good for you.' I'm eating 100 grams of a fat a day and 25 grams of saturated fat," said McDowell, whose typical breakfast features bacon and eggs instead of eating egg whites and no yolk.
McDowell admitted he thought "this in no way shape or form is going to give me more energy in the race car, but it sure has for me."
It also has helped him lose more than 35 pounds since July.
McDowell said he weighed 238 pounds in an official NASCAR weigh-in for drivers at Daytona in July. McDowell was down to 200 pounds at a NASCAR weigh-in at Indianapolis in September and said last weekend at Kansas that he is down to 195 pounds.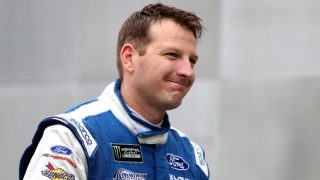 "Nothing fits anymore," McDowell joked. "I have some of my old (drivers) suits. They look like pajamas."
McDowell said the weight loss has been a benefit of the diet.
"The thought going into it wasn't trying to dump a bunch of weight, it really wasn't a diet as much as it was having sustainable energy in the race car and feeling good at the end of the hot, long races," he said.
"The benefits of it have been great on all fronts from good stamina in the race car, good mental clarity throughout the day and through the race and probably the biggest thing has been recovery after the races.
"I would have a headache every time I would get out of the race car. I've had that for 10 years. When I switched to this Keto diet, when I get out I'm not hungry and I don't have a headache after the race, which is a huge, huge deal."
McDowell stresses he's not a paid endorser of this diet and he's still learning about it and how effective it can be for the long term. He's working closely with his doctor and gets blood work done regularly to monitor how his body is handling the diet. McDowell said he's focused on what he calls good fats and oils instead of just eating bacon cheeseburgers with this diet.
"For me, being at my best and not giving up anything is super important," said McDowell, who has nine top-20 finishes this season. "I think the hardest part and most frustrating part of my career is it just has been hard to lose weight and eat enough to have the energy in the race car and now I've found a way to do both. That's the biggest upside for me. Before if I tried to lose weight, I had to do it by cutting calories and cutting calories made me feel worse in the race car. It was a vicious cycle."
2. What might have been
Erik Jones had an average finish of 5.3 in the second round of the playoffs — better than every playoff driver but Joey Logano, who also had a 5.3 average finish in the round — but Jones' struggles in the opening round eliminated him from title contention.
After such a strong run in the second half, Jones is left to wonder what might have been.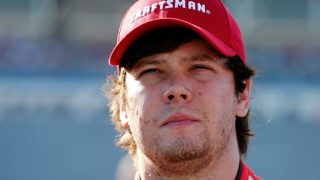 "Our first round was kind of off the track," said Jones, who was 40th at Las Vegas after he was collected in an incident with Kevin Harvick, finished 11th at Richmond and was 30th at the Charlotte Roval.
"It's a bummer. I feel like we were better than some of the guys in the Round of 12 and had been better all year. That's kind of how the playoffs go. Had we made it and ran like we did still, do we advance? Maybe. Probably.
"It's frustrating to look at to think we could be sitting in the Round of 8 and coming up to some of my best tracks and in a pretty good spot possibly to Homestead with Texas and Phoenix on there, those are some of my favorite places.
"At the same time it's encouraging to know we've got good speed. I think that momentum is going to carry into next year. I think the speed will as well. We'll have to refocus and try it all over again."
3. Woe is me at Martinsville
Only once in nine starts at Martinsville has Kyle Larson finished better than 14th. So what's the issue?
"I think it's definitely all me," Larson said. "I feel like whenever we go to Martinsville and why we struggle it's just a difficult place for me for whatever reason. Maybe we don't have the best race car or set-up there, but I feel like I'm worse than what the potential of our car is. 
"(Chip Ganassi Racing teammate) Jamie (McMurray) has kind of fallen off maybe a little bit at Martinsville the last couple of years, but even when he was running well there, I was still running like 25th. I work really hard on trying to get better there and all that, but for whatever reason, I struggle, bad."
4. Strong crowd
Chase Elliott's win last weekend at Kansas Speedway puts him in elite category.
Elliott needed nine starts between his first three Cup wins. The only driver who needed fewer starts in the modern era (since 1972) between their first Cup victories was Tony Stewart. He needed seven starts. Elliott tied Bobby Labonte, who needed nine starts between his first three victories.
Kyle Busch is the youngest driver to score three Cup wins at 21 years, 2 months, 14 days. Elliott is next at 22 years, 10 months, 23 days. Richard Petty was third at 23 years, 2 months, 16 days.
5. Still searching
Martin Truex Jr. has the most wins (19) in Cup without scoring a short-track victory. He is winless in 77 career short-track starts. That's more than any active driver except Jamie McMurray, who is winless in 95 career starts on a short track.
On the other hand, Kyle Busch has won five of the last eight short-track races.