Julie Giese was named president of ISM Raceway Tuesday by International Speedway Corp., making her the only female president at ISC's 13 tracks.
She will take over the position in November once Bryan Sperber steps down. Giese will oversee the debut of ISM Raceway's $178 million renovation project for the Nov. 9-11 NASCAR race weekend.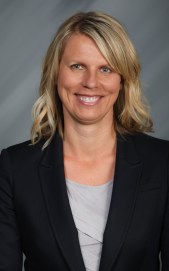 Giese is a long-time ISC employee. She started with the company in 2001 as the director of public relations at Watkins Glen International.
Giese ascends to president of the track in Avondale, Arizona, after serving as managing director of business operations for ISC Design & Development.
"For me, it was a natural fit," Giese told the The Arizona Republic. "I have a great understanding of the project. I think my experience puts me in a position to not only open a new venue, but also make sure we're driving sales, and making ISM Raceway the premier destination we want it to be."
Giese directed coordination between ISC's 13 tracks, internal corporate departments and the Design & Development team on ISC's significant capital investment and redevelopment projects.
"We couldn't be happier to announce Julie Giese as President of ISM Raceway," said ISC CEO Lesa France Kennedy in a press release.  "She has spent close to two decades in motorsports, most notably with ISC, that included leadership roles in major redevelopment projects like Daytona Rising and the ISM Raceway Project. Julie's unparalleled knowledge of the industry, along with her experience and passion, will serve her well in this new role."