CHARLOTTE, N.C. — Leavine Family Racing's announcement Wednesday that it will align with Toyota and have Matt DiBenedetto drive the No. 95 car next season was not a surprise.
But it's understandable to ask why Christopher Bell isn't in that car next year.
Bell has been dominant in Xfinity for Joe Gibbs Racing this season and said in August he feels ready for Cup. He has finished in the top five in nearly 60 percent of his starts this year and set a series rookie record with his sixth Xfinity win last weekend at Dover International Speedway. This is after he won the Camping World Truck Series title last year for Toyota at Kyle Busch Motorsports.
So why wasn't Bell introduced as the driver of the No. 95 car?
"Between ourselves and Joe Gibbs Racing, we've been very intentional about Christopher's development," David Wilson, president of Toyota Racing Development, told NBC Sports. "Was there some conversation? Absolutely. But we collectively decided to stay the course and genuinely believe it will serve Christopher to invest another year (in Xfinity). It's not going to hurt him.
"One of the challenges of this new alliance is next year we're … starting from some respects from ground zero (with a new partner in Leavine Family Racing). I don't think it's fair to put a rookie driver in the midst of that. This is why Matt will be a good fit. His experience will lend itself to building this alliance and building the level of competitiveness."
Leavine Family Racing replaces Furniture Row Racing, which will cease operations at the end of this season, in the Toyota camp. But the two teams are very different. Leavine Family Racing is behind where Furniture Row Racing was when it joined Toyota in 2016. Furniture Row Racing had already won in Cup. Leavine Family Racing has not. Even though both are single-car teams this year, car owner Bob Leavine said his team has 35 employees, about half the number that work at Furniture Row Racing. Leavine also said he doesn't have the budget Furniture Row Racing has.
Wilson's focus of building Leavine Family Racing is understandable.
Wilson confirmed that Toyota Racing Development will support five Cup teams next year — the four Joe Gibbs Racing teams and Leavine Family Racing — and no more.
But there's still a way for Bell to run some Cup races next year. Leavine said he planned to ask Wilson about Toyota Racing Development providing an extra engine to run Bell from time to time.
"That's for them to decide," Leavine said. "We're just going to be available if they want to do it to put it all together and make it all work."
Joe Gibbs Racing, which will provide the cars to Leavine Family Racing, also would have to be able to build cars for those extra races.
Wilson is open to the idea of a second Leavine Family Racing car running at times if it makes sense.
"We've not made any definitive plans along those lines but certainly it gives us some options,'' he said. "The challenge in doing that is making sure that you do it in a manner, not that you expect to win per say, (but) you can risk spreading your resources too thin.
"Next year will be our first year with LFR and the priority needs to be building their capabilities and building their success, so if we have the opportunity to do something creative like that without compromising our primary mission, then we might take a look at that."
2. What's next for Toyota's youngsters?
Even with Noah Gragson leaving the Toyota lineup after this season to drive in the Xfinity Series for JR Motorsports, Toyota still has a bounty of young talent.
Among those who have yet to reach the Truck Series are Hailie Deegan and Logan Seavey.
Deegan returns to the track this weekend for the first time since her K&N Pro Series West win two weeks ago in Meridian, Idaho.
The 17-year-old is fifth in the points in her first season in the series. Is her win and two runner-up finishes this season enough to have her run a Toyota Truck at Martinsville or Phoenix later this season?
"There's no plans right now to put her anywhere this year," David Wilson, president of Toyota Racing Development, told NBC Sports. "We're still working very closely with Hailie and the family about the right steps, the next steps. I don't think we've made any definitive decisions at this point."
So what about a Truck next year?
"There's not a plan," Wilson said. "You need to put her experience in perspective. She's literally only run 20-something races on pavement and is 17 years old. She just need mores races, more laps, more seat time. There's not a burning urgency of we've got to get her in a truck."
A possibility for her could be to move to the K&N Pro Series East next year and run the full season there.
Another Toyota driver looking to move up the development ladder is Seavey, who leads the USAC National Midget standings and seeks to become the third rookie to win that championship.
The 21-year-old Seavey, whose background is on dirt tracks, made his Camping World Truck Series debut in July at Eldora Speedway and finished eighth after leading 53 laps.
So what's next for Seavey?
"We have a lot of faith and belief in Logan," Wilson said. "What we'll see with Logan is just more pavement time. We've got some great relationships across the Super Late Model ranks and I would expect next year that we give him some more opportunities with (those) races and maybe some K&N and ARCA. He's definitely on the right track and we're excited about his potential."
3. Right from the start
Kyle Busch and wife Samantha have been open about their struggles to have children and that they had to go through in vitro fertilization to have son Brexton in May 2015.
Since their son's birth, they've created the Bundle of Joy Fund that gives grants to couples who need such treatments to have children. Those treatments can cost $15,000 or more and insurance doesn't cover it.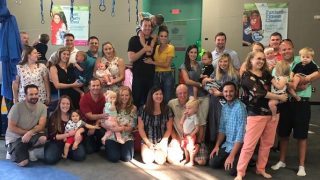 The Bundle of Joy Fund has led to the birth of more than a dozen children. Many of those families gathered in August for a play date and to all be together for the first time.
Kyle and Samantha both recently announced that they are wanting to give Brexton a baby sister and said they planned to share all the ups and downs they go through during this process publicly.
"If we only showed the good times, and we only showed when it was a success and went well, that's not fair to all the women that have (not had stories that have gone like that)," Samantha Busch told NBC Sports.
"We don't know what's going to happen, and it is a little scary to know that things may come up down the road that may not be as easy as last time, but for all those couples out there that need to go through this or have gone through this and need to know that they're not alone and need to understand that this can happen to anybody, I think it's important to start from the beginning this time.''
Samantha said she has begun taking a shot a night to prepare her body for the process and will be scheduled to have additional shots before the in vitro fertilization takes place.
4. No to the Roval theory
The notion that the end of the Charlotte Roval race was the final straw that led to Jimmie Johnson and Chad Knaus splitting after this season is not true, they say.
"Not even close," Johnson said.
"I think it was already done" by then, Knaus said of the decision.
Johnson was second and in a position to advance to this round of the playoffs but challenged Martin Truex Jr. for the win and spun in the final chicane. The result was that Johnson lost enough spots and Kyle Larson gained a spot on the last lap to forge a three-way tie among Johnson, Larson and Aric Almirola for the final two transfer spots. Larson and Almirola advanced based on their best finish in the first round was better than Johnson's best.
"That was … heartbreaking," Knaus said Thursday of the Roval finish, (but) that was not part of it. I wanted to win that race just as bad as he did. 
"I beat myself up more than I probably ever blamed Jimmie for what happened there. I could have probably come on the radio and said one or two things and he probably would have maybe thought and checked up a little bit, but my last words to him was 'go get his ass.'"
Said Johnson: "I was crossing the start/finish line watching the white flag wave when he said that… yeah, that is what we do, we are there to win."
5. New frontier 
With Jimmie Johnson and Chad Knaus splitting after this season, Knaus will become William Byron's crew chief.
Byron is excited about the opportunity to work with the seven-time champion crew chief and knows it will push him to be better.
"I think Chad is going to be brutally honest with me, and I'm okay with that," Byron said Thursday. "I want to succeed in this sport. That's my number one goal, and I'll do whatever it takes to do that."
Although Knaus is 47 and Byron is 20, Byron says he sees similarities with Knaus.
"Probably attention to detail," Byron said. "Type A personality. I don't like excuses so that will fit well."
Knaus said he's "so geeked up" to be working next year with Byron and the No. 24 team, a team Knaus worked for when he started at Hendrick Motorsports in 1993.
Jimmie Johnson said he thinks the pairing of Knaus and Byron will be good.
"I am really excited for William," Johnson said. "We have chatted quite a bit about it, and I feel that William is a lot like me. He likes to be coached along. I think there are some personalities that liked to be coached and others that don't thrive or succeed in that environment. William is a lot like me in that he likes to be coached and with Chad's wisdom and years and experience his intensity and desire to win, I think it could do a lot of good for him."
Follow @dustinlong and on Facebook