DOVER, Del. — Ross Chastain, whose run since Labor Day weekend included a tussle on the track with a Cup champion, a watermelon smash after his first career Xfinity win and one last desperate flurry Saturday, saw his fun-filled playoff journey end Saturday at Dover International Speedway.
Chastain, who finished 13th, missed advancing to the second round of the Xfinity playoffs by three points.
"We did all we could," car owner Johnny Davis told the team on the radio after the checkered flag waved. "It wasn't meant to be. Keep your heads up high."
Chastain did, sharing the same smile he had when he took Chip Ganassi Racing's No. 42 car to a win last month at Las Vegas Motor Speedway.
That ride with Ganassi was a three-race fairy tale but Chastain's main ride this season — as it has been since 2015 — is with Johnny Davis Motorsports, an underfunded team based in South Carolina that has scored 37 top-10 finishes in 1,076 career starts.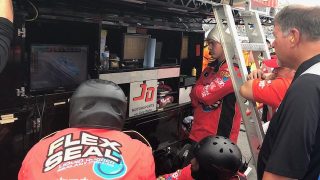 "It's not a disappointment. We had these guys," Chastain said, noting cars from better funded teams such as Team Penske, Richard Childress Racing and JR Motorsports, "we had them nervous we were going to beat them. That's really cool. We did outrun a few of them. We took a big step forward this weekend and this year."
A pit road speeding penalty on Lap 167 of the 200-lap race put Chastain at the back of the field and on the offensive. He bumped Matt Tifft in the corner. The contact sent Tifft up the track and into Chase Briscoe's car. Briscoe hit the wall to bring out the caution.
"I was trying to pass him," Chastain said. "It's my job. I bring my friends with me. He runs into me after the race. It's all good."
Tifft wasn't impressed.
"What an idiot," he said on the radio after the incident.
Tifft, the last driver to advance to the next round of the playoffs, was more understanding after the race.
"He was doing what he had to do," Tifft said of Chastain. "I happened to be the one on the receiving end."
That Chastain was in this position was among the heartwarming stories in the series. His JD Motorsports team had put in him that spot and then Chastain's run with Chip Ganassi Racing at Darlington and Las Vegas got him into the playoffs.
Chastain won both stages at Darlington and battled former Cup champions Kevin Harvick and Brad Keselowski in the final stage. After Keselowski fell back, Harvick challenged Chastain. As they raced side-by-side in the corner, Harvick's car slid up and made contact, forcing Chastain into the wall. Chastain came down the track and spun Harvick on the straightaway, upsetting Harvick.
"Got a really inexperienced guy in a really fast car that made a really bad move and then wrecked me," Harvick said after the incident. "Probably the reason he'll never get to drive many of them again."
Two weeks later, in a race without Cup regulars, Chastain scored a dominating win and shared that he was not getting paid for his three races in the Ganassi car. The move to Ganassi's car had been a gamble to show what he could do in a top car.
The eighth-generation watermelon farmer celebrated by smashing a watermelon at the start/finish line.
At Richmond, he finished second in Ganassi's car. A win would have moved him to the next round. He placed 12th at the Charlotte Roval for Davis' team last week.  Chastain entered Saturday's race in the final transfer spot, nine points ahead of Austin Cindric.
Saturday, Cindric outscored Chastain 8-1 in stage points. That proved critical. Cindric went on to finish eighth to leapfrog Chastain in the standings.
Chastain admitted that the disappointment would hit later, but he was philosophical after the race.
"Something, I'll never forget," he said of his playoff run. "All of this. In my time here in NASCAR, it's going to be over one day and seasons like this are the good ones. Seasons like last year and 2013 for me in the Trucks are terrible and you hope you never have to go through that again. Ultimately, they made me realize this season is one of the good ones."