DOVER, Del. – Inside a nondescript white tent about 50 feet from the Miles the Monster statute, Dover International Speedway entered a new era Saturday of betting at track – a NASCAR track.
Mimicking the betting windows often seen at horse racing tracks, the austere setup in the Dover FanZone just outside the track entrance featured a folding table with several sheets of odds for the Xfinity and Cup races and an electronic station with an attendant who took fans' cash and punched in their bets.
Dover is the first NASCAR track to offer an on-site location for betting, which encompasses all professional sports after Delaware became one of the first states to offer sports wagering after a Supreme Court ruling in May.
John Hensley, the general manager and senior director of horse racing and sports betting at Dover Downs Casino (which is adjacent to the 1-mile oval), said there was an encouraging stream of fans moving through the kiosk during a three-hour stretch after its 9 a.m. opening.
Hensley said the most action had been on Kyle Busch and Kevin Harvick, who will start 1-2 in the race after the lineup was set by points standings because of a qualifying rainout.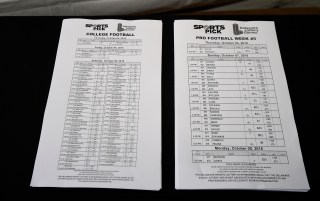 The NASCAR betting was split about 50-50 between picking a race winner or making a proposition bet (such as whether a driver would finish in the top five or top 10, the number of the winning car, the number of drivers to finish on the lead lap, most laps led, etc.).
"We're doing all we can to explain it, educate them about what's available," Hensley said. "Everyone assumes you can bet the race winner. Then they come and look at this longer list of props you have, and then they start looking at cautions.
"The over/under on the amount of cautions is 7½, and the questions we're getting speaks to how educated the NASCAR fan is. They immediately say, 'Does that count the stage cautions?' Every single person, that's their first question."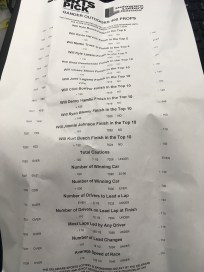 The over/under bet on the number of cautions does NOT include stage cautions, only for the "natural" yellows that occur during the race.
Sharp-eyed fans also might have asked why Kasey Kahne was listed at 500-1 (Kahne remains sidelined at Dover; Hensley said he was removed from the line after the opening).
Las Vegas-based William Hill is handling the NASCAR oddsmaking, and Hensley said the sports book is offering more prop bets than a typical race weekend (including when NASCAR is at Las Vegas Motor Speedway, which has no betting windows).
But the volume of options isn't expected to have a major impact on the handle. The Wilmington (Delaware) News Journal reported that $60,000 has been wagered on NASCAR since sports betting opened in the state on June 5, which accounts for only 0.2 percent of $39.77 million in sports betting.
"That's true, and that's typical in the Nevada environment anyway," Hensley said. "The four major sports do the bulk of the interest. We've done a good percentage of that $60,000 already this week with the event being here and with a little bit of push from what it's had.
"The jury is out on how much from a monetary standpoint, but it's a great tool. It's a wonderful enhancement. Every little bit helps. It'll be interesting to see where all the major sports and NASCAR go in the future."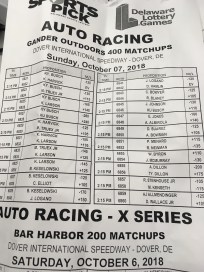 Cup betting was on hold around noon Saturday – William Hill pulls down the lines during practice and qualifying, which are monitored from Vegas to adjust the odds accordingly – but several bettors in their early 20s were milling about the tent and betting on the Xfinity race and other sports.
Bradley Saucier, a 21-year-old from Maine, had put money on Daniel Hemric and Justin Allgaier to win in Xfinity and planned "to probably put the whole house on Kyle Larson" to win Sunday (at 13-2). The over on the number of leaders (6½) also seemed attractive.
"It's changed the experience quite a bit," said Saucier, who also bet college football, baseball and hockey. "It definitely makes it feel like I have part of the race. I'm more part of it when I have a horse in the race."
His friend Joshua Merrill, who attends several races annually with Saucier, bet Elliott Sadler to win Saturday and also planned a few parlay bets for Sunday. "Sitting at the race and having money on it makes you pay more attention to what's going on," Merrill said.
Travis Parks laid $5 on Justin Allgaier to win at 4/1 and also was betting the winning car number Sunday (taking Nos. 00 to 21 like a roulette wheel), as well as a few parlay and prop bets on SEC football games. "I thought this would be just racing," Parks said. "It's like a mini-casino."
The NASCAR rulebook doesn't explicitly prohibit drivers or team members from betting. NASCAR president Steve Phelps said before Sunday's race that "specific langauge" would be added to the 2019 rulebook to clarify its gambling policy.
NASCAR betting is capped at $1,000 on race winners and $500 for proposition bets, and Hensley downplayed the notion that a team member might attempt to influence a race outcome because of betting.
"With the risk manager setting limits, the risk and return of trying to fix something is so small," Hensley said.