CONCORD, N.C. — The most difficult part of Charlotte Motor Speedway's Roval?
That's easy, AJ Allmendinger says.
It is "as soon as you pull out of the garage."
He's about right.
The 17-turn, 2.28-mile course combines the track's oval and the infield road course to create a one-of-a-kind track littered with danger points for drivers. That this is a playoff race — "I think everyone agrees that's a little bit crazy," Joey Logano said — only adds to the drama this weekend for the Xfinity and Cup Series.
MORE: Friday's Crash and Spin Report at the Roval
Here's a look at some of the key points on the track that could impact the outcome of this weekend's races.
BACKSTRETCH CHICANE
This is not a favorite of the drivers. They'll be going around 150 mph as they enter this chicane at the end of the backstretch. It's narrow.
"Getting into the chicane, there's not going to be two cars going through there, ever," Austin Dillon said.
The chicane is protected by blue curbing that is taller than most of the other curbing around the track and can cause more damage to cars — something Denny Hamlin discovered in Friday's practice.
There's also the tire barrier at the exit of the chicane. It leaves little room for error. Both Hamlin and Dillon struck it Friday.
"I think in race conditions it is going to be really gnarly," AJ Allmendinger said. "That is going to be a difficult challenge, and I think it's going to be a challenge for NASCAR to make the right call if somebody gets shoved and has to shortcut it."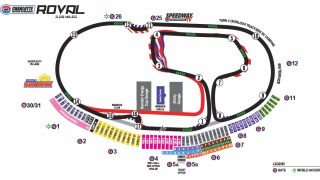 START/RESTARTS
The field will not go through the frontstretch chicane for the start or restarts. Instead, the field will do those on the frontstretch like any other race. The reasoning is that if the chicane was used, the front of the field would be accelerating while many further back would be braking as they went through the chicane and would not create a fair situation for the field.
With starts and restarts not using the chicane, drivers have estimated that they'll be going 15-30 mph faster toward Turn 1 — a sharp left-hand turn that will require them to downshift from third gear to second and brake.
As the front of the field does that approaching the corner, others farther back will still be accelerating. It could stack the field and cause a multicar crash.
"Restarts, I think that's probably where most of the questions lie," Martin Truex Jr. said. "How do we navigate the place? Can we go two wide (into Turn 1)? Where can we go two wide? How's that all going to play out? That'll be the interesting part.
"In Turn 1 specifically – Turns 1 and 2, the walls on both sides are really narrow. Kind of a difficult spot on the racetrack, so we'll just – I don't know. I don't really know how to answer your question there. Everybody is anxiously anticipating what'll happen there and hopefully, we can figure out a way to make it through there."
TURN 8
This is the left-hand turn that takes cars off the infield road course and puts them back on Turn 1 of the oval.
A lot of teams have worked to make sure their cars handle well here so they can fire off on the oval and build speed through the second corner of the oval and the backstretch before hitting the chicane. If a car isn't as good here, it will lose time to others, and that could be difficult to make up the rest of the lap.
"That's going to set up a lot of passes into the backstretch chicane," Trevor Bayne said. "If you can get off that corner, the speed carries all around (the oval)."
PIT ROAD AND PIT EXIT
While pit road is always important, this pit road carries a unique challenge. Shortly after crossing the final timing line — allowing drivers to go as fast as they want after that point — competitors face a 90-degree turn and then a lane before they blend on the track in Turn 2, a tight section of the track.
"If you're side by side with a car coming off pit road, and you're making that first sharp left, and then you blend onto the racetrack, one, if there's another car coming off of Turn 2, that's three cars in a really tight spot, that's not going to work," Ryan Blaney said. "There might have to be a little give and take there because it's almost a blind corner pretty much. 
"So that will be a big deal for the spotters to let us know if someone is coming or if you need to back out or something like that. It's a lot on the driver, too, but you just can't see on the racetrack. If you're two wide, and you're coming off pit road and no one is coming off of Turn 2, I think you can do it. You should be OK, but it's a big deal if someone else is on the racetrack because they don't know if you're coming out or not at that wall."