A special race calls for special rules.
This weekend brings the inaugural Cup and Xfinity races on the Charlotte Motor Speedway road course.
The 2.28-mile, 17-turn "Roval" is a first in NASCAR, combining most of the 1.5-mile oval and the infield road course.
The track includes two chicanes – one on the front and backstretch. The one on the frontstretch is located before the start-finish line. The backstretch chicane exits into Turn 3.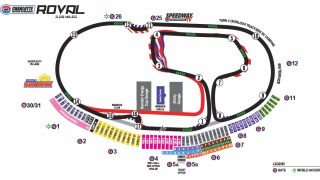 In the case of rain, wet tires can be used.
Here's a breakdown of rules in place for the Bank of America Roval 400 (2 p.m. ET on Sunday on NBC) and the Drive for the Cure 200 (3 p.m. ET on Saturday on NBCSN).
STARTS/RESTARTS
— Will NOT go through the chicane on frontstretch. They will be done on the frontstretch (Reason: NASCAR wants to keep it fair for the entire field. If the chicane was used, the front half of the field would be taking off as the back half would be braking through the chicane. That's not fair compared to other tracks where cars have the opportunity to go the same speed approaching the restart zone.)
MISSING CHICANES
— If a driver misses either chicane on the frontstretch or backstretch, it's an automatic drive through penalty (At Watkins Glen, drivers must stop at the Bus Stop area and give their spot back before continuing. Because of how tight the competition is on the Roval, that wouldn't work.)
— If a driver misses either chicane on the last lap of the race, it's a 30-second penalty.
CAUTION FLAGS
— They will run the whole course, including going through the chicanes. This is done so as not to mess up fuel mileage calculations for teams.
PJ1
— The traction compound will not be used. The track did run the tire dragon in Turns 3, 4, 5, and 6.
PIT ROAD
First three stalls are not open.
Pit out is in the middle of pit box 2 (yellow line). From that point on there is no speed limit.
RAIN TIRES
— Series director's call. If there's puddling, teams likely won't be sent out.
BLUE FLAGS
– These will be used one the course. The blue flag is just to alert of something to be cautious about. It is not a caution and you can pass.