CONCORD, N.C. — With 12 races left in the 2015 Cup season, Justin Allgaier was ready to tap out of racing.
The 29-year-old's enthusiasm for competing had worn thin after two years of middling results driving the No. 51 Chevrolet for HScott Motorsports. His best result through 60 races was eighth earlier that spring at Bristol.
It had already been announced he wouldn't return to the team in 2016. His spot would be taken by Clint Bowyer.
Allgaier, who had three Xfinity wins at the time, called it one of the "darker" periods of his career. It was a long way from 2018, where he enters this weekend's Xfinity playoff opener at Richmond as the No. 1 seed.
"I was ready to walk away," Allgaier said Tuesday at the Xfinity Playoff Media Day. "At the end of that season I was trying to figure out an exit strategy, right? What does the future hold, where do you go from here?"
All this weighed on Allgaier on Sept. 6, the day of the Southern 500 at Darlington Raceway.
Then Allgaier climbed in the bed of a truck with Dale Earnhardt Jr.
—
Allgaier doesn't know if it was the result of an "abnormally bad" qualifying effort for Earnhardt or a "fantastic effort" by himself.
Either way, Allgaier was set to start the Southern 500 in 27th, right next to the Hendrick Motorsports driver.
Through that, the two were paired in the same truck to take them around the 1.366-mile track following driver introductions.
By the end of their trip from the start-finish line to pit road, Allgaier said "there was a fire lit" underneath him.
Earnhardt told NBC Sports he doesn't remember exactly what he told him that day, but Allgaier recalled what the sport's 15-time most popular driver discussed with him as they waved to fans waiting for the race.
"Dale's big thing to me was, 'Man, I'm sorry that things didn't work out the way they wanted them to. … It wasn't for a lack of effort. … I really thought if you guys could get something figured out you guys would be a lot better. … I've been impressed with what you've done on the race track and how you've driven the car … In the right situation you would excel.'"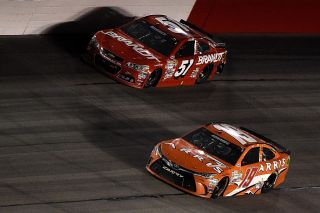 As they slowly traversed the "Lady in Black," Allgaier said they covered "20 years of life in that one lap."
"He had a lot of confidence in me in a time when I promise you I didn't have the confidence in myself to go out there and think we could run good in anything," Allgaier said. "It was like everything that I had thought that I needed somebody to say, God just put it right in Dale's mouth to say it.  I heard everything I needed to hear."
Allgaier doesn't remember where he finished the Southern 500 (33rd), but he knows he had a bad race.
"It was one of those days where you want to forget it," Allgaier said. "I didn't care. It didn't matter. I was in a better place, I was happy. I was ready to go."
Within two weeks Allgaier was having discussions with Earnhardt and JR Motorsports about joining their Xfinity Series team with sponsorship in tow from Brandt, which had sponsored Allgaier in Cup and Xfinity since 2011.
About a month after that, Allgaier was "signed, sealed, delivered (and) ready to race" for JRM.
"I didn't want to fail again," Allgaier said. "And I knew I had the tools to go do it and I had the people around me and we've been lucky enough to do that. This year's kind of the year that it all perfectly came together and everything worked."
—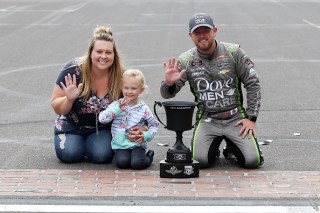 Three years and four days after the Darlington conversation, Allgaier, now 32, sat on the frontstretch of Indianapolis Motor Speedway.
He and JRM's No. 7 team had just won the Lilly Diabetes 250.
In his third year with JRM, it was Allgaier's fifth Xfinity win of 2018, a career-best. It also gave him seven wins in the last two seasons.
Now he and his family were about to kiss the bricks on the start-finish line, a tradition for winners at the historic track.
His wife, Ashley, looked at their daughter, Harper Grace.
"I hope one day you realize the gravity of what you're about to do," Allgaier recalled her saying.
"It hit me," Allgaier said. "'Oh man, I might not be able to do this. I might not be able to bend down here and kiss these bricks.' That was a cool moment. That was something special.
"That's probably what's kept me in this sport. There was a time in my life where I was ready to quit racing and go home and not ever get back behind the wheel of a race car ever again. To have those moments now, I think (Harper Grace) very clearly understands that it is hard to win in this sport and I think she's enjoying these Victory Lane moments when she can because you don't know when the next one may or may not come."
Allgaier will look to make more special moments in the playoffs, which begins Friday at Richmond Raceway (7:30 p.m. ET on NBCSN).
"It's taken me almost 10 years to win five races, then this year alone we've won five," Allgaier said. "That's special. That doesn't happen because I changed who I was. Right? I didn't all of sudden learn how to drive at the beginning of 2018 and say, 'Hey, let's go win a bunch of races.' That's not all what happened. Everything has clicked."
Allgaier added, "We're doing our jobs together in harmony and we're executing and that's what makes the difference. It's every piece of the puzzle that goes together and it's just been fun."