LAS VEGAS — Frustration lingered as Denny Hamlin stepped into his motorhome after Monday's Cup race at Indianapolis Motor Speedway.
His chance to snap a yearlong winless streak, build momentum for the playoffs and be three-quarters of the way to winning each of NASCAR's four major races vanished when Brad Keselowski passed him for the lead coming to the white flag.
As Hamlin removed his driving shoes, Taylor, his 5-year-old daughter, broke the silence.
"Daddy, you did really good," she told him. "I know you didn't win, but you were up front a lot. That's really good."
Children do say the darndest things — and often at the right times.
Hamlin's mood lightened. His frustration seeped away.
"I was like, 'Wow, she's starting to get it,' " Hamlin told NBC Sports. "She's starting to be old enough to understand and get it, so I want to perform well for her more than anyone."
While providing motivation, children also can be a stress-relief valve for drivers especially in the playoffs — a 10-week grind that will take competitors across the country and to the brink emotionally. One mistake can put a driver in jeopardy of being eliminated. That can weigh heavily during and between races and be mentally draining.
"You can really, really stress yourself out because I've done that before, and it makes for a long 10 weeks," said Kevin Harvick, father of 6-year-old son Keelan and 9-month-old daughter Piper.
"You have to be engaged and into it and a part of it, but you also have to have some separation, and I think kids and family in general help separate you from (the stresses)."
For Harvick, it can mean taking his son to school, a sports practice or something else that can keep him away from racing during the week.
Coincidence or not, four of the last five Cup champions had at least one child when they hoisted the championship trophy in Miami. Nine of the 16 playoff drivers are fathers: Hamlin, Harvick, Keselowski, Joey Logano, Aric Almirola, Kyle Busch, Clint Bowyer, Kyle Larson and Jimmie Johnson.
With the influx of young drivers, this year could present an interesting case study on the value of having children in a championship chase.
Clint Bowyer, father of son Cash, who turns 4 in October, and 21-month-old daughter Presley, says that "kids have certainly given me new energy and new focus on racing. It's made me want to be in it longer. A lot of people it changes that and makes them want to start to think about retirement. Racing has been a family sport for me since I was a little kid, and I want Cash to see me for who I was and my opportunity in this sport. I want him to see me as a winner."
Cash and his daddy provided one of the more memorable moments of the season when Bowyer won at Martinsville — Cash and Clint running toward each other on the frontstretch after the race before embracing.
Some of the most special moments, though, take place away from the track for drivers and their children.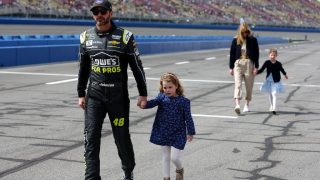 In what has been one of his most challenging seasons, Jimmie Johnson finds motivation from 5-year-old daughter Lydia.
Shortly before he left for Las Vegas this week, his youngest daughter gave him explicit instructions.

"She's just on me: 'Daddy win a race. Daddy win a race. Daddy win a race,' '' Johnson said.
Lydia had some other advice for Johnson, who is on a career-long 49-race winless streak, as he left home.
"Daddy, push the gas pedal as hard as you can! The hardest you ever have and you win that race!"
She continued her personal pep rally for her father.

"Daddy, you win that race, you do it!"
She has been outspoken the past few weeks, and it's helped Johnson just before the race begins.
"As I climb into the car, I always think about my family and say a little prayer before I head off," he said. "The last handful of weeks, I just laugh because I can see her face and her intensity, 'Daddy, you win that race.' "