LAS VEGAS — Garrett Smithley walked out of Victory Lane with a smile on his face.
On a day when he wrecked in qualifying and finished 18th in a backup car, he couldn't contain his excitement for Ross Chastain, typically his teammate at JD Motorsports but not on this day.
Saturday's Xfinity race at Las Vegas Motor Speedway was one of three races this season that Chastain will run in Chip Ganassi Racing's No. 42 Chevrolet — a car with more funding and resources than Chastain's regular ride.
Chastain scored a dominating win.  
"It gives all the little guys hope," Smithley said of Chastain's victory.
As if it to make sure that Chastain's win was real and the embrace they shared in Victory Lane was not imaginary, Smithley said it again.
"It gives all the little guys hope."
Money is king in NASCAR and the owners with it are the kingmakers.
For those without money, everything is harder. There are fewer resources to develop new parts and make cars faster. Instead, such teams rely on less reliable parts, tape measures instead of laser measurements and hand-written notebooks instead of computer simulation programs. It's a gap that rarely can be closed.
Facing such obstacles, teams are left only with hope. It's why crew members get up at 5 a.m. to head to the shop and why they might not leave until midnight trying to repair a car from the last race and get it ready for the next one. Instead of flying to the upcoming race like many teams, it often means long drives through the night with little sleep before the garage opens the next morning and the race for speed resumes.
For such teams, the race for 25th can be as meaningful as the race for the lead to bigger teams.
Ryan Preece knows both worlds. He drove for JD Motorsports in 2016 and had one top-10 finish for the underfunded team.
Nobody noticed him.
So he took the sponsorship money he had and went to Joe Gibbs Racing to run two races (that later became four) instead of 33.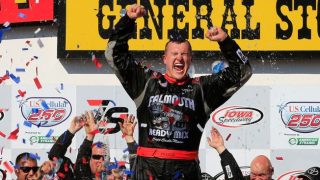 Preece won in his second race with Gibbs. He's won again with the team this year. Although he says he's focused on the remaining races with Gibbs, his gamble will likely lead to a full-time ride next season in the sport. 
Preece isn't alone in believing less is more. Alex Bowman lost his Cup ride before the 2016 season. With no rides left, he signed to run select races with JR Motorsports that year and also served as the test driver for Hendrick Motorsports' simulator program. That put him in position to replace Dale Earnhardt Jr. after Earnhardt had to sit out the second half of that season because of symptoms from a concussion. Bowman went on to take over the No. 88 when Earnhardt retired after last season and is in the Cup playoffs.
Those moves did not unnoticed.
Matt DiBenedetto, who also had to start and park early in his career and has run for a variety of small-budget teams, announced recently that he would leave his full-time Cup ride with Go Fas Racing after this season and bet on himself like Preece did.
"I paid a whole lot of attention to those guys and what they did," DiBenedetto told NBC Sports of Preece and Bowman. "They were a big driving force in me making this decision."
DiBenedetto said he decided to follow the model Preece tried after "seeing other guys get just barely bumped above me on those lists (for rides). That was the push I needed to make this bold and risky decision."
For Chastain, the risk was low. Jeff Carpoff, president and CEO of DC Solar, which sponsors the No. 42 Xfinity car, approached Chastain earlier this year at Auto Club Speedway as Chastain walked with helmet in hand from his Xfinity car to the Cup garage. The brief conversation led to further talk by Carpoff of putting Chastain in the No. 42 Xfinity Ganassi car at some point this season.
Chastain revealed Saturday that he's not getting paid for these three races — he also ran the car at Darlington and makes his last start in it next week at Richmond.
"I get laughed at from inside the garage," Chastain said of his no-money deal for these three races. "We literally bet on ourselves that we wouldn't make any money now, but it would pay off."
Chastain had to hold off Justin Allgaier, the regular-season champion, in a spirited duel that included contact and had Allgaier ranting on the radio at the time. Allgaier later attributed his anger to being in the moment.
But when Chastain pulled away from the field on the final restart and it became clear he would score his first career Xfinity win — in his 132nd series start — he just wanted to enjoy the moment.
He didn't yell or scream on the radio. He put his head down, punched the steering wheel and stayed silent.
"They were all congratulating (me) on the radio," Chastain said of the team. "I just wanted to listen and hear it."
It was a sound he could not have imagined when he was starting and parking early in his career because there wasn't the money to run a full race.
"That's not the ideal way," Chastain said. "I wouldn't recommend that because it's tough, and it's very trying. A lot of phone calls (with family) late at night. We didn't know it was going to get better, but they kept telling me that."
Back then, he only had hope.