It's finally here! The 69th running of the Southern 500 will be held at 6 p.m. ET Sunday on NBCSN.
The night will be a blast from the past with paint schemes representing NASCAR's history as the track celebrates NASCAR's seven decades.
Here's a roundup of the paint schemes:
No. 00 – Landon Cassill: The StarCom Racing driver will pilot a car with Bobby Allison's 1988 Miller High Life paint scheme. Derrike Cope, StarCom's team manager, drove for Allison from 1994-96. Matt DiBenedetto drove the scheme in last year's Southern 500.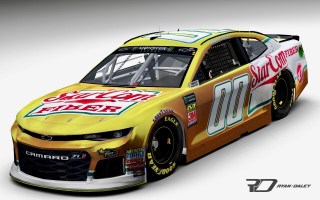 No. 1 – Jamie McMurray: The Chip Ganassi Racing driver will have a paint scheme based on one Bill Elliott drove in 1998. Instead of being dedicated to the 50th anniversary of NASCAR, it's dedicated to the 50th anniversary of the Big Mac.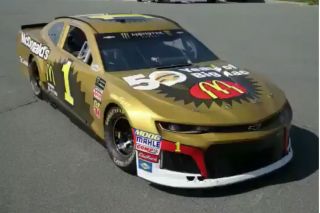 No. 2 – Brad Keselowski: Will drive Rusty Wallace's paint scheme from the 1990 Cup season.
No. 3 – Austin Dillon: Richard Childress Racing brings back the silver No. 3 that Dale Earnhardt debuted at the 1995 All-Star Race.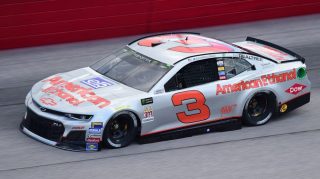 No. 4 – Kevin Harvick: Will drive a scheme based on Busch Beer's can design from 1996.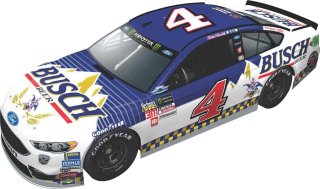 No. 6  – Matt Kenseth: The 2013 Southern 500 winner will be sponsored by Oscar Mayer, who was an associate sponsor of Roush Fenway Racing in the early 2000s.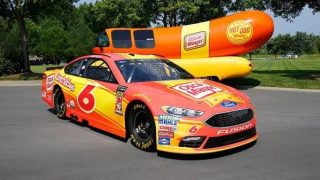 No. 9 – Chase Elliott: The Hendrick Motorsports driver will have a scheme based on one driven by his late cousin, Casey Elliott. He passed away from cancer in 1996.
No. 10 – Aric Almirola: The Stewart-Haas Racing driver will have Helping Hungry Homes, Smithfield's initiative focused on alleviating hunger & helping Americans become more food secure.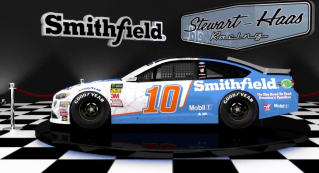 No. 11 – Denny Hamlin: The Joe Gibbs Racing driver will throwback to his his short track days with the paint scheme he competed in mini-stocks with in 1997.
No. 12 – Ryan Blaney: Will drive a scheme based on the car his father, Dave Blaney, raced in the 2003 Cup season.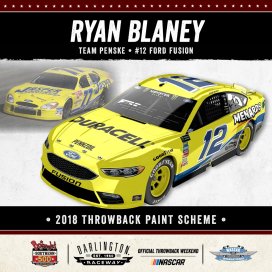 No. 13 – Ty Dillon: Germain Racing will have its original GEICO paint scheme from the 2009 season when the car was driven by Max Papis.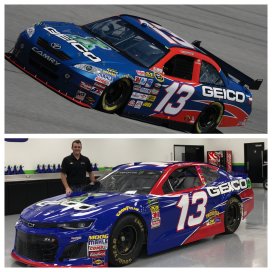 No. 14 – Clint Bowyer: Bowyer will driver a paint scheme based on the car NASCAR Hall of Famer Ned Jarrett drove to a win in the 1965 Southern 500.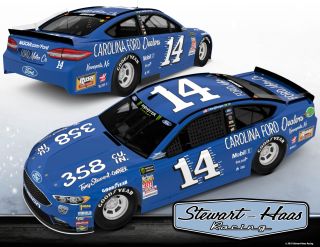 No. 17 – Ricky Stenhouse Jr: The Roush Fenway Racing driver will have the John Deere paint scheme driven by Chad Little from 1997-2000.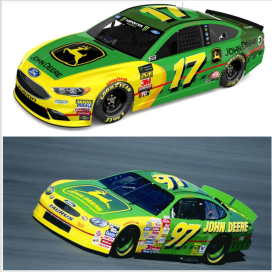 No. 18 – Kyle Busch: The Joe Gibbs Racing driver will pilot the original Skittles paint scheme first driven by Ernie Irvan in 1997.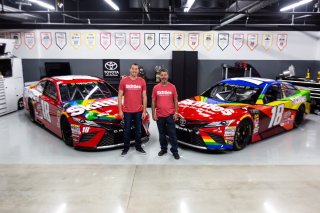 No. 20 – Erik Jones: The Joe Gibbs Racing driver will pay tribute to the Camping World Truck Series career of his spotter, Rick Carelli.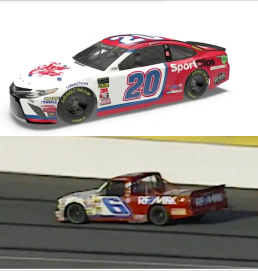 No. 21 – Paul Menard: Wood Brothers Racing will pay tribute to Cale Yarborough's win in the 1968 Southern 500, which was the first for the team and Yarborough.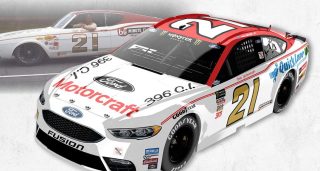 No. 22 – Joey Logano: The Team Penske driver will pay tribute to Steve Park with the Pennzoil scheme Park drove for Dale Earnhardt Inc. in the early 2000s and won two races with.
No. 23 – Joey Gase: His car duplicates the paint scheme his father, Bob, had when he won the 2003 championship in his modified at Hawkeye Downs Speedway.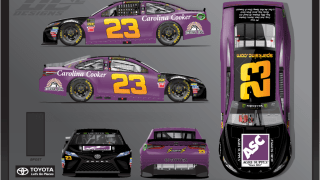 No. 24 – William Byron: Will drive Jeff Gordon's iconic DuPont "Rainbow Warriors" scheme he raced full-time from 1993 -2000.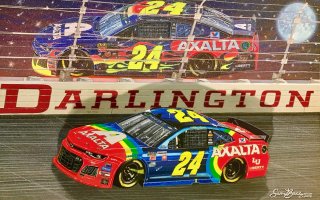 No. 31 – Ryan Newman: The Richard Childress Racing driver will honor the late Neil Bonnett with his scheme. The car will be painted like the Mom & Pop's sponsored car Bonnett drove in two Cup races in 1993. He was the first RCR driver to drive the No. 31.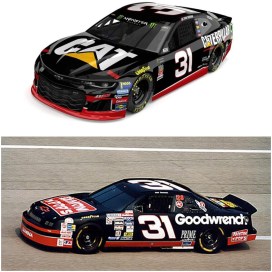 No. 32 – Matt DiBenedetto: Will drive Jeff Burton's paint scheme from the 2000 Cup season.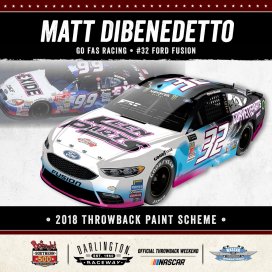 No. 34 – Michael McDowell: This look replicates the color scheme for the first Love's Travel Stop in 1981 in Amarillo, Texas.

No. 37 – Chris Buescher: The JTG Daugherty Racing driver's car will have a scheme dedicated to the 110th anniversary of Busch's Best Beans.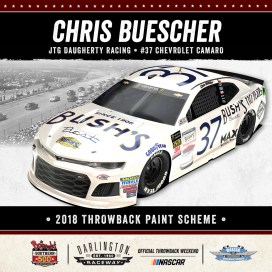 No. 38 – David Ragan: Will drive a paint scheme reminiscent of Dale Jarrett's victory in the 1991 Champion Spark Plug 400 over Davey Allison.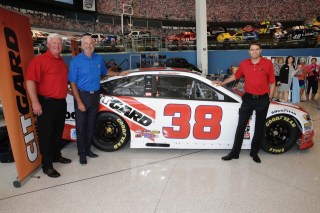 No. 41 – Kurt Busch: Will drive his own paint scheme from the 2003 season when he was part of one of the closest finishes in NASCAR history at Darlington Raceway, losing to Ricky Craven by 0.002 seconds. This year marks the 15th anniversary of the race.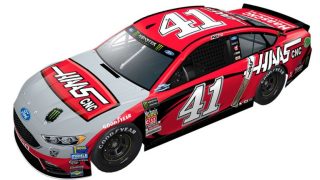 No. 42 – Kyle Larson: The Chip Ganassi Racing car will have a scheme based on Davey Allison's 1988 rookie paint scheme.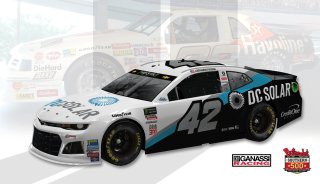 No. 43 – Bubba Wallace: Richard Petty Motorsports changed its throwback scheme Sunday morning to include more of STP Day-Glo red on the car.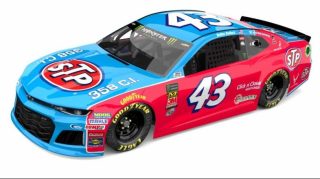 No. 47 – AJ Allmendinger: JTG Daugherty Racing will pay tribute to one of their early entries. Allmendinger's No. 47 boasts the colors from Robert Pressley's 1998 car in what was then the Busch Series (Xfinity today).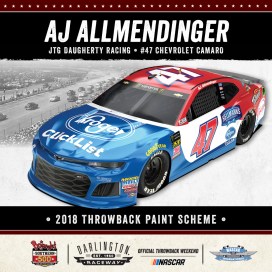 No. 48 – Jimmie Johnson: The three-time Darlington winner will drive the scheme he used in 2012 when he won the Southern 500 and gave Hendrick Motorsports its 200th victory.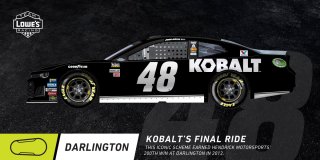 No. 66: Timmy Hill: Hill's car will be a tribute to Darrell Waltrip's farewell scheme from his final Cup campaign in 2000.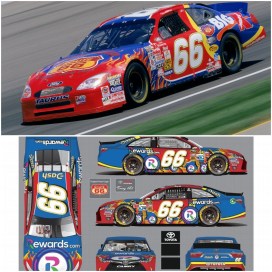 No. 72 – Corey LaJoie: He pays tribute to his father, Randy, a two-time Xfinity Series champion. The No. 72 will paint scheme mirrors the paint scheme on Randy's cars when he had FINA has a sponsor.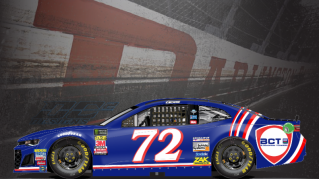 No. 88 – Alex Bowman: The Hendrick Motorsports driver is sponsored by Llumar, but does not have a throwback scheme.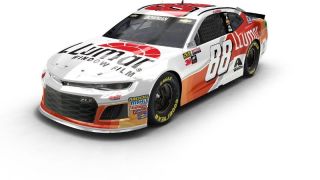 No. 95 – Kasey Kahne: The Leavine Family Racing driver will boast the paint scheme from his 2006 Cup season, when he won a career-best six races and claimed six poles.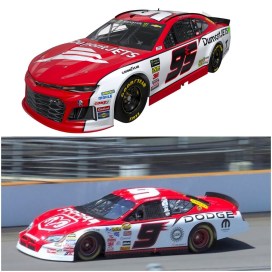 No. 96 – Jeffrey Earnhardt – The grandson of Dale Earnhardt Sr. will drive a scheme that the seven-time champion drove in 1978.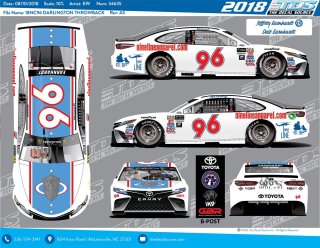 No. 99 – Derrike Cope: Cope will be sponsored by Bojangles and will have the paint scheme Cope drove in the Cup Series in 1993 when sponsored by the company.