Tyler Reddick will pay tribute to the late Tim Richmond with his paint scheme for Saturday's Xfinity race at Darlington Raceway (3:30 p.m. ET on NBCSN).
Reddick's No. 9 Chevrolet will be sponsored by Old Milwaukee beer and will bear the scheme Richmond had in the Cup Series when the beer sponsored his No. 27 Pontiac LeMans from 1983-85.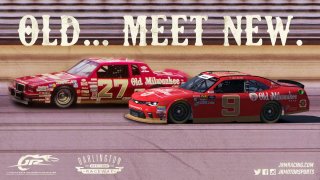 Richmond, who died in 1989 at 34 from complications from AIDS, had 13 wins in 189 Cup starts from 1980-87.
His life and career were documented in the ESPN 30 for 30 documentary "Tim Richmond: To the Limit."
During his Old Milwaukee days, Richmond drove for the Blue Max team owned by Raymond Beadle.
Raymond's son Ryan is general counsel for JR Motorsports.
"Everything I had heard about Tim Richmond, which a lot of it goes off of the stories I've heard from people close to me in the garage, is that he was a guy that when he came up was one of the most talented drivers out here and that he was always really good at trying to have fun and be himself," Reddick said in a press release. "He was about having fun and enjoying himself and winning races at the same time. I feel like he sometimes just flew under the radar a little bit and I feel like there is a connection there to how I try to go about my life, which makes it that much more special to be running this throwback scheme to him in Darlington."