CHARLOTTE, N.C. — The first question to Brett Moffitt wasn't about his four wins or the sponsorship woes that nearly cost him his playoff eligibility.
No, it was the thin strip of hair above the 26-year-old's lip that was the elephant in the room.
Make that the caterpillar in the room.
After almost a month of growth you can't miss it, especially in a series made up mostly of follicle challenged drivers under the age of 25. At the Camping World Truck Series Playoff Media Day, only the working man's beard of 42-year-old Matt Crafton rivaled it.
Moffitt's 'stache is arguably the most talked about in NASCAR – at least on this day – since Dale Earnhardt Sr. shaved his to go snorkeling in 1999 or Jeff Gordon attempted to regrow his infamous rookie year 'stache in 2012.
Those happen to be the 'staches that stand out to Moffitt in NASCAR history, which is filled by the glorious whiskers of Terry Labonte, Dale Jarrett, Tim Richmond, Richard Petty and Mike Skinner.
Noah Gragson, one of Moffitt's seven playoff foes, is not impressed with Moffitt's 'stache.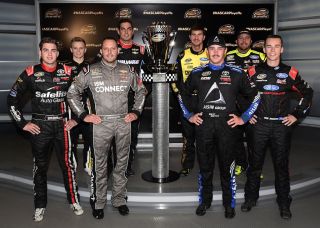 "I think I can grow a much better mustache than him," Gragson said straight-faced. "If you gave me a day-and-a-half, I could grow a broom on my upper lip. It's not too good. His isn't that great. His looks like a 12-year-old's mustache."
Has the 20-year-old driver grown his own?
"I haven't yet," Gragson admitted. "I just know I could grow a good one like that."
Smooth-faced at 35, Stewart Friesen is actually "a little jealous" of Moffitt, since his facial hair follicles don't have it in them to "make a good playoff beard."
"When we won (Super) Dirt Week in 2010, 2011, everybody on the crew grew a mustache," Friesen said. "But now he's got it, he's flying the flag."
Moffitt will look to fly the flag that was last carried by Jack Sprague.
Moffitt, in his first year with Hattori Racing Enterprises, isn't very familiar with Sprague, who was Ron Hornaday Jr.'s primary rival in the Truck Series in the 90s.
He won three titles in 1997, 1999 and 2001. Moffitt was only 9 when Sprague and his 'stache won their final title together, marking the last time a national NASCAR driver won a championship with nothing but a 'stache on his face.
"That'd be pretty awesome then," Moffitt said of possibly giving his team the first 'stache title in 17 years. "Bringing it back to the early 2000s."
The chance to become the first millennial 'stache champion in NASCAR started as a joke.
Last month Moffitt challenged his team before the seven-race playoff started.
"I can't grow a beard, so I couldn't do a playoff beard," Moffitt said. "But I could do a … mustache. I joked with them, 'Whose going to be in on it?' Most of them agreed."
He started growing the mustache – his first serious attempt at facial hair – the week of his Aug. 3 K&N Pro Series East win at Watkins Glen. Since then he won his fourth Truck race at Michigan and placed 18th at Bristol.
Moffitt doesn't even touch it as part of his daily hygienic routine.
"This is just natural," Moffitt said. "Just let it go, baby."
In the last week, the 2015 Cup Series Rookie of the Year started to get cold feet.
Monday evening, he posted a Twitter poll: Keep the 'stache or "give in to the haters"?
Thanks to 77 percent of 1,273 votes, Moffitt will ride with his new facial companion all the way through the playoffs, which begins this weekend at Canadian Tire Motorsport Park.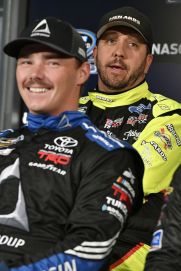 "I said the only way I'm going to shave it off is if I meet a really hot chick that says, 'No, unless you get rid of the mustache,'" Moffitt declared.
What if a sponsor – one Moffitt is looking to back his low-funded No. 16 Toyota at Talladega Superspeedway (Oct. 13) and Texas Motor Speedway (Nov. 2) – doesn't care for it?
"That's not in my contract," Moffitt said. "So I can have all the facial hair I want."
Since it's here to stay, Moffitt will try to make history.
Told Moffitt could have the first title 'stache since Sprague, Crafton gave a hearty laugh.
He then said he'd do his best to "keep that from happening."