EDITOR'S NOTE: Dustin Long spent last week with Richard Petty Motorsports to give fans a behind-the-scenes look at all that takes place before a race. 
Part 1: Putting together a game plan for Bristol
Part 2: Searching for sponsorship 
Part 3: Bubba Wallace earns respect from fans, crew 
Part 4: A day filled with highs and lows 
BRISTOL, Tenn. — The lift gate slammed with a thud, loud enough to be heard over the roar of cars that circled Bristol Motor Speedway.
The Richard Petty Motorsports hauler was loaded about 45 minutes after the team's race ended after three laps Saturday night because of a crash.
"It sucks," car chief Jason Sheets said.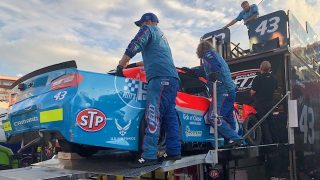 He laughed — what else could one do? — and shrugged his shoulders. Then, he walked away with the rest of the team toward the Turn 3 tunnel. They headed to a nearby airport for the 22-minute flight to Statesville (North Carolina) Regional Airport and then a drive home.
There was no storybook ending for this underfunded single-car team. They had hoped to repeat how well Bubba Wallace ran at Bristol in April when he drove to the front and led six laps. A blistered left-front tire relegated him to a 16th-place finish that day.
With potential sponsors at the track Saturday, Richard Petty Motorsports executives hoped for a similar type performance minus the blistered tire.
Bristol marked the fifth time in the last six races that Medallion Bank and Petty's Garage — companies operated by co-owners Andrew Murstein and Richard Petty — were on the car because no other company paid the be the primary sponsor. The team does not have a primary sponsor for six of the season's final 12 races.
Missing that sponsorship, there isn't money for the newest parts and RPM can't build new cars as often. It makes it difficult to compete against bigger teams. Richard Petty Motorsports last had a top-10 finish in April at Texas.
Bristol doesn't rely as much on aerodynamics, so the money bigger teams outspend RPM on engineering doesn't make as much an impact there as at a bigger track.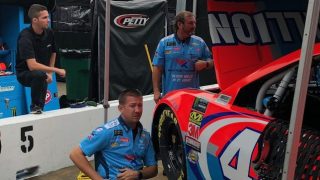 That's significant because RPM has two engineers. As part of the Richard Childress Racing technical alliance, the team has access to RCR's engineers.
With only one engineer, Derek Stamets, able to travel this weekend, RPM was loaned Erik Long, an engineering intern at RCR who has one final semester remaining at UNC Charlotte.
The team was hopeful after Wallace was 12th on the speed chart in Friday's final practice but the performance dropped in qualifying when he failed to advance beyond the first round and started 27th. Frustrated, Wallace spoke briefly with crew chief Drew Blickensderfer before walking out to the hauler Friday and slamming the sliding doors shut.
Later that night, Wallace and Blickensderfer texted about how the car handled and changes that needed for the race. They settled on a setup similar to what Wallace had at the end of the April race with one change to prevent the left front tire from blistering again.
Blickensderfer was confident Saturday evening in the car's performance after about 20 laps. With a competition caution set for Lap 60, he had a plan in place of pitting if there was a caution about 30 laps into the race to get off sequence from the leaders and gain track position later when they pitted.
The mood was light around the car on pit road before the start when Blickensderfer walked out there. Wallace joked with his teammates. As Wallace grabbed his helmet to put on, the public address system played the song "Y.M.C.A." by the Village People. Wallace joined the crowd in doing the hand motions during the refrain. Once inside the car, he exchanged playful hand gestures with interior mechanic David Cropps, whose job is to ensure Wallace's equipment keeps the driver safe in an accident.
As the cars align for the start, spotter Freddie Kraft gives Wallace,on the inside of Row 14, instructions.

"One to go at the line," Kraft tells Wallace on the radio. "Just try to rubber up that bottom (line) as best you can here. … I'm just worried about it being real slick the first lap, you know what I mean? (The traction compound) will burn in within the first lap or so, but the first lap might be a little slick."
Wallace then tells the team: "All right boys, let's see what we can do at the end of the night. Good times coming from inside the car. Appreciate the hard work. Let's see what we can do. Appreciate it. Love you."
Kraft tells Wallace: "Take care of that thing. Let's have some fun tonight, brother. Let's go to work."
The green flag waves.
Forty-four seconds later, Kraft yells on the radio: "Check up! Check up! Check up! Check up! Check up! Down! Down! Down! Down! Down! Down! Down! Down! Son of a bitch. We're killed."
Kyle Busch slides up the track in Turns 3 and 4, bounces off Ryan Blaney and slides down the frontstretch. Wallace ran into the back of AJ Allmendinger's car, goes low and then is forced into the inside wall when Daniel Suarez cuts hard left to avoid Busch's car.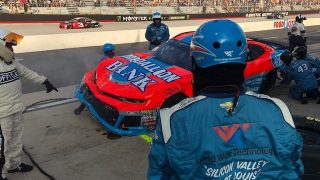 Wallace makes it to pit road. The damage is too great. The radiator and oil cooler are damaged and fluid drains from the bottom of the car.
Wallace's race is over. He climbs from the car and slams his helmet against roof.
He fist bumps his teammates and thanks them for their work.
Wallace will finish 38th, completing three of 500 laps.
"I was pissed there for a moment," he said after exiting the infield care center. "Then you just laugh about it. It's crazy. Can't even make it two laps, I don't know if we made it a lap and then we're wadded up. Just a bummer. I usually sweat pretty easily. Hell, I didn't have enough time (in the car) to sweat."
With that, his duties are done, a weekend gone. He walks out of the care center and heads toward the tunnel to leave.
The race continues without Wallace and Richard Petty Motorsports.