EDITOR'S NOTE: Dustin Long is spending this week with Richard Petty Motorsports to give fans a behind-the-scenes look at all that takes place before a race. Watch for his stories each day through Sunday.
Part 1: Putting together a game plan for Bristol
Part 2: Searching for sponsorship 
Part 3: Bubba Wallace earns respect from fans, crew 
BRISTOL, Tennessee — Bubba Wallace bounced up the four steps to the lounge of his team's hauler and announced his presence with an expletive.
It wasn't uttered in anger but exuberance.
"I'm wore out!" the 24-year old Cup rookie said, beads of sweat on his forehead, after Friday's opening Cup practice at Bristol Motor Speedway.
The intense 15-second laps left Wallace speaking in short bursts as he described the car's handling to crew chief Drew Blickensderfer, engineer Derek Stamets and director of competition Philippe Lopez.
Wallace's arms moved up and down and side to side as he talked, showing Blickensderfer how the car reacted on the high-banked half-mile track.
While Wallace's fastest circuit in the opening practice session ranked 29th of 41 drivers, his times compared favorably the more laps he ran. Another practice remained to fine-tune the Chevrolet Camaro before qualifying for tonight's Cup race (6:30 p.m. ET on NBCSN).
This gave the team hope. It had been more than four months since Wallace last scored a top-10 finish. Anticipation built in the shop this week as the Cup series returned to Bristol. It was here in April that Wallace drove the same car he's running this weekend to the front and led six laps — the first laps he'd led in his Cup career. He seemed headed for a top-10 result that day, but a blistered left front tire left him with a 16th-place finish.
A strong result could help the team as it searches for sponsorship and entertains potential suitors tonight. Richard Petty Motorsports seeks sponsorship for half of the remaining 12 races after Bristol. Without those sponsorship dollars, the team is not able to buy all the new parts bigger teams can, have as many people working in the shop or build new cars as often. That impacts performance.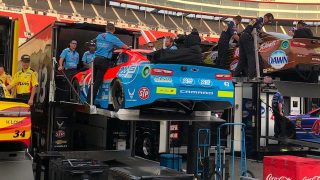 But at Bristol, a team can run well without all those dollars and with a limited crew. They just have to work harder.
Blickensderfer walks across the track at 7 a.m. Friday to help unload equipment from the team's hauler before the garage opens at 7:30 a.m. But he spends 15 minutes examining a hub on a left rear wheel of the team's hauler after Jeffrey Icenhour said a warning light illuminated on his way to the track.
When the garage opens, Blickensderfer and the crew unload the car and push it to pit road, which serves as their garage Friday since Bristol's infield has no stalls.
While his car goes through inspection, Wallace's day officially begins at 9:30 a.m. with NASCAR's mandatory rookie meeting. Wallace is first, arriving five minutes early. Richard Buck, managing director of the Cup Series, notes Wallace's punctuality. Blake Jones, Ross Chastain, Jesse Little and William Byron soon arrive and the 10-minute meeting begins. Buck details various practice, qualifying and race procedures and notes where the traction compound has been placed on the track in the corners.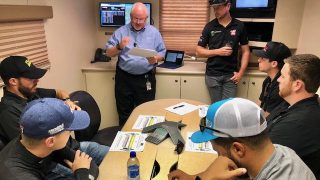 Former Cup champion Kurt Busch attends to offer advice. He reminds the rookies "how fast things move here." He's talking about what happens on the track but it also describes how the weekend's ebb-and-flow can suddenly change.
The day's pace quickens. Opening Cup practice goes from 10:35 – 11:55 a.m. ET. Wallace and his team stop 15 minutes early, a penalty for failing prerace inspection twice last weekend at Michigan.
Not long after the meeting that Wallace bounded into the lounge for, he's back in the car. Final practice goes from 12:40 – 1:50 p.m.
After making a run in the session, Wallace radios his crew: "Little bit freer in there. We'll have to guard that for the race."
He uses the first part of session to run several laps in a row to prepare for the race— just as he and did in the opening session.
After a few adjustments, he returns to the track. Blickensderfer watches from atop the team's hauler so he can see how Wallace's car reacts. Lopez watches on a laptop in the hauler, surrounded by multiple TVs hanging on the wall. One shows various camera angles of the track and weather radar, another displays detailed lap time information of any driver they want and plots those laps on a graph, and a third TV shows a view of the cars exiting Turn 2, going down the backstretch and into Turn 3.
Lopez calls the computer program he's watching on his laptop a cartoon. He can view the animated version of Wallace's run in real time. Lopez can call up any driver on the track or a previous run by any driver in that session and overlay their lap on the track with Wallace's to compare. The computer program also shows the throttle trace and brake pressure for each car simultaneously.
This allows Lopez to see where another driver might be accelerating sooner to show Wallace. Lopez matches Wallace's lap against those of Kevin Harvick, Ryan Blaney, Ricky Stenhouse Jr., among others, throughout the sessions.
As Lopez watches Wallace's run on the computer, Wallace's car suddenly goes through the wall.
What has actually happened is that Wallace scraped the wall but the fender damage was minor.
"I don't know how we didn't hit it," Wallace tells Lopez later.
The incident proves to be a good point to switch to the qualifying setup.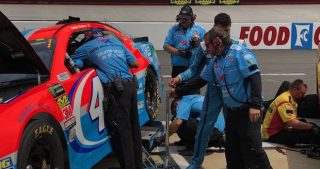 While the crew makes the adjustments, Wallace stands behind his car on pit road and looks toward Turn 1. Richard Petty, in his black jeans and white collared button-down shirt, walks over the pit wall and takes his long stride toward his driver.
Petty puts his arm around Wallace and talks to him. Wallace nods as hears about every other word over the roar of the cars that scream by every few seconds.
When Wallace returns to the car, he is fast. He finishes the final session 12th on the speed chart with a lap of 15.37 seconds (124.792 mph), although not every team made a mock qualifying run in that session. Still, it's something to feel good about. But work remains, as Wallace, Blickensderfer, Stamets and Lopez again meet in the hauler's lounge.
"So from run to run, it got tighter," Wallace says, sitting in a rollaway office chair that he maneuvers to be next to Blickensderfer. "And so trying to carry speed through (Turns) 1 and 2, you're pushing the limits. And then hit the bump and sh-woof, like it shoves you this way and snaps you loose."
"Both the second and third laps?" Blickensderfer asks. Yes is Wallace's response.
"So we can go more on the second adjustment," Wallace continues. "But I like the way it felt. I didn't get all that I could out of it, just didn't expect it to be that good up top for the (fast lap) we ran. (Lopez) said Harvick initiates throttle a little bit more. Just starts a little bit more. I know I can do that. … Just go out there."
Blickensderfer reads from his notes, saying how after the first run Wallace said they needed to turn better. After adjustments, it didn't turn any better next time on track.
"So whatever adjustment we did didn't react or we need to go more. I'd say it's probably both," Blickensderfer says.
"What did you do there?" Wallace asks.
"Raise the trackbar up both sides,'' Blickensderfer says. "That's what got you to kind of pivot the time before. I've got many notes here of your second qualifying run being loose in that now you're running the top …"
"It doesn't matter," Wallace says, finishing the sentence.
Wallace then discusses entering pit road and the brakes, noting how rough it is when he applies them, telling Blickensderfer that it makes a ffttt-ffttt-ffttt-ffttt-ffttt sound.
Wallace also asks Stamets and Blickensderfer to "give me something" to help his car over the bump off Turn 2. Blickensderfer tells Wallace how high Larson and Blaney are running in the corners. Blickensderfer also mentions how he's observed most of the field exit the corner in Turn 2. Blickensderfer goes over Wallace's laps and notes
Dale Inman, Hall of Fame crew chief for Petty, walks in and is soon followed by spotter Freddie Kraft, who stands in the walkway because there's no room to sit down. Kraft and Wallace discuss the lines he ran through the corners and how they compare to other drivers.
Wallace studies the lap times and notes how well they ran: "P12, when's the last time we've seen that?" He gets up to leave and will return a few hours later for qualifying.
If he can repeat that, he'll likely be among the top 24 to advance to the second round of qualifying. If he does that, maybe he can squeeze more speed out of the car and make it into the top 12 and advance to the final round.
Wallace went out halfway through the 15-minute opening round in qualifying. His time was worse than he had run in final practice. As more cars make runs, Wallace falls outside the top 24. He makes another qualifying attempt. He is on pace to climb into the top 24 when he loses time in Turns 3 and 4 and qualifies 27th with a lap of 15.43 seconds.
Blickensderfer walks into the hauler first. Wallace follows a few strides behind.
Wallace says the car was too loose.
He turns and shouts: "On to tomorrow!"
Wallace walks out of the hauler and slams the sliding doors shut.
Moments later, the crew enters the hauler.
They have been at the track for 11 hours and assaulted by noise the entire time — from generators, power tools, cars and even the public address system, which made sure any moment without sound was filled.
Inside the hauler, the air conditioner hums. Radios and headsets clank on the countertop as the crew puts them away.
There is no other sound.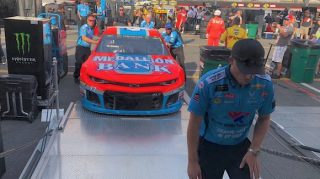 Follow @dustinlong and on Facebook