EDITOR'S NOTE: Dustin Long is spending this week with Richard Petty Motorsports to give fans a behind-the-scenes look at all that takes place before a race. He will be with the team at Bristol Motor Speedway this weekend. Watch for his stories each day through Sunday.
Part 1: Putting together a game plan for Bristol
Part 2: Searching for sponsorship 
BRISTOL, Tenn. — They brought diecast cars, hats, shirts and hero cards to be signed. A man wearing a No. 3 hat and an orange Bristol T-shirt brought a Winston Cup banner covered in signatures. Bubba Wallace became the 279th name to decorate it. A woman gave Wallace, a University of Tennessee fan, an orange Volunteers bracelet and a lanyard. A man just wanted to shake Wallace's hand.
And then there was Maegann Wright, wearing a Bubba Wallace T-shirt. Among the 300 or so items Wallace signed Thursday afternoon at Bristol Motor Speedway, none was more unusual than what Wright requested. She slipped her left black-and-white checkered shoe off and handed it to the driver of the No. 43 car. He wrote his name next to Ryan Blaney's fading signature.
"It smells disgusting,'' Wright said of her shoe. "I felt bad, but I had to have him sign it."
When the line emptied and the last selfies with fans were taken, Wallace returned to his motorhome to prepare for the weekend. The next race is always the most important for any competitor, but that might be more true for Wallace and Richard Petty Motorsports.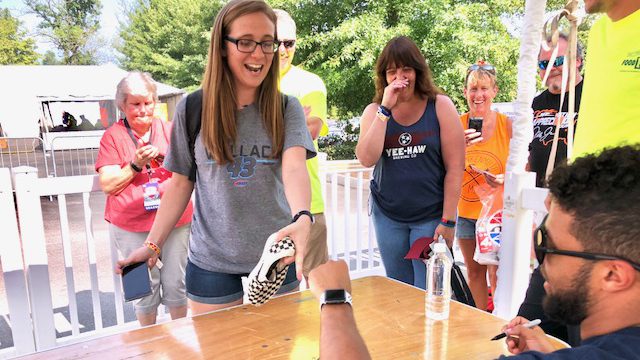 The single-car team continues to search for sponsorship. Businesses operated by team owners Andrew Murstein and Richard Petty will be on the car Saturday night for the fifth time in the last six races because no other company paid to be the primary sponsor. The team seeks a primary sponsor for more than half of the remaining 13 Cup races.
"We know how much it means to have a really good race," Wallace told NBC Sports.
Bristol could be an equalizer for RPM because aerodynamics and finances don't mean as much as at bigger tracks. In April, Wallace drove to the front and led six laps before a blistered left-front tire relegated him to a 16th-place finish. The way Wallace drove to the front gave the crew hope this week as they prepared the same car for this race.
Such a run would provide a boost. The team has had one top-15 finish in the last 16 races, an eighth-place result at Texas in April.
The challenge is not new for Wallace. He thinks back to his early struggles in the Truck Series before he won at Martinsville in 2013, and the search for sponsorship that came up empty and forced Roush Fenway Racing to suspend operations of his Xfinity team last season.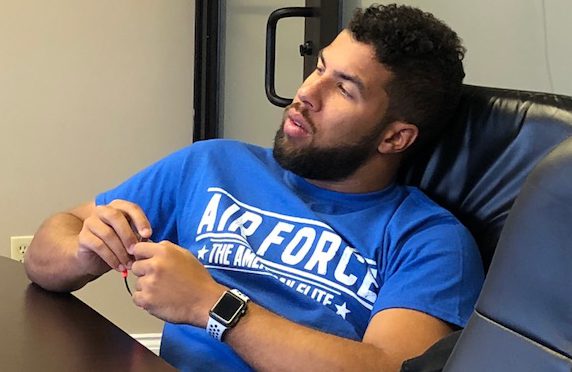 "Each and every step, there has been something to overcome and a hardship to be able to cross," Wallace told NBC Sports. "I think that just makes you stronger for the next step in your journey. Being here right now and knowing our expectations … learning from those hardships that I've come through before, I don't put so much pressure on myself.
"Yeah, we're struggling a little bit. But I don't feel like I'm about to have a mental breakdown over it. It's like, 'Why aren't we winning all these races?' Well, let's back up a little bit. We don't have the money and stuff like that. We have the drive, we have the passion, but that's not what wins you races. That's a step to help you win a race, but we've got to have a whole package."
He came close in the Daytona 500, finishing second to Austin Dillon and Richard Childress Racing, an organization Richard Petty Motorsports is aligned with and neighbors to in Welcome, North Carolina.
For as memorable as the finish was, what happened in the media center afterward is a moment that Wallace said he'll never forget. His mother went to the dais and embraced Wallace, telling him: "I'm so proud of you, baby. I'm so proud of you. You've waited so long, baby."
Wallace responded as they hugged: "You act like we won just won the race."
"We did! We did! We did win that race. We did."
Wallace's mother, Desiree Gillispie-Wallace, has provided her son emotional support through the peaks and valleys of a racing career that started at age 9 and saw a steady progression of a driver some labeled the Tiger Woods of racing.
Along the way, Wallace won in his first K&N Pro Series East start at age 16 and became the first African-American to win a NASCAR national series race in nearly 50 years. At age 20, his victory came at Martinsville, just a few miles from the hometown of Wendell Scott, who became the only African-American to win a Cup race in 1963.
"He's still hard on himself because he feels like he's carrying the weight of the African-American culture … kids that look up to him," Wallace's mother told NBC Sports. "He wants to make sure he's doing a good job for everybody."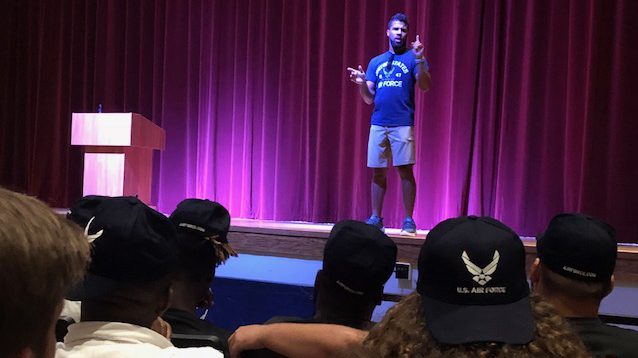 During an appearance Thursday for the U.S. Air Force before the senior class at Virginia High School in Bristol, Wallace was asked by a black student about being the only African-American in NASCAR's top series.
"It's pretty cool," Wallace told the assembly. "Wendell Scott … laid down the foundation for us all and broke the barriers and went through all that stuff. For me now, I'm one of the most accepted drivers. In our driver intros, I get huge cheers. For me, it's about being myself … carrying that to each and every weekend. I think the fans latch on to what is real. That's what I'm all about. There's no switching it up when you get on camera. Me talking to you guys today is the same person you'll see … at the race. I've always been like that.
"As far as the African-American side, I don't really pay much attention to try to accomplish that. I just go out and let the driving speak for itself. You have good days that tends to shine a little bit more, the humbling days is what you need to work on, when things don't go your way you've got to manage the emotion and come out on top."
He has his team's support.
"These guys are really sold that Bubba can drive even though I don't think it's fair that we haven't given him a good car lot this year," said Philippe Lopez, director of competition. "It's not that we've given him a bad car, it's just where we're at he's done a lot with it. Sometimes he's overachieved."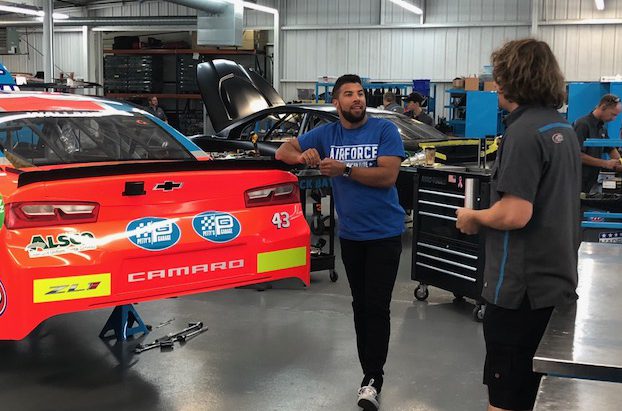 Wallace also has done other things that mean a lot to the crew. Visits to the shop and spending time with crew means a lot to each.
"Some drivers, they're like straight-laced, you've got to be real serious with them and there's other drivers like Bubba that you can mess around with," said interior mechanic David Cropps, whose primary job is to make sure where Wallace sits inside the car is as safe as possible.
One of the things that struck mechanic Jerad Hewitt, who joined the team last month, was what Wallace typically does after most practices. He goes around and thanks the crew for their job.
"It's nice to have that," Hewitt said.
It's something Wallace has done since he was racing in the Xfinity Series.
"The moments that we go through are all as one team, from the start of the weekend to the end, all one team," Wallace said. "Sometimes I forget (to thank them) and I feel bad about it.
"It's something that came about, showing the guys that I for sure care about them, they're the ones that I put the trust in to make sure the car is at its full 110 percent each and every weekend. Showing them the appreciation and giving them the love that they deserve is what it's all about."