EDITOR'S NOTE: Dustin Long is spending this week with Richard Petty Motorsports to give fans a behind-the-scenes look at how a team prepares for a race. He will be with the team at the shop and at Bristol Motor Speedway this weekend. Watch for his stories each day through Sunday.
Part 1: Putting together a game plan for Bristol
WELCOME, N.C. — A stillness hangs in the heavy air. Sounds echo, whether from crickets or distant traffic. Morning dew clings to the grass and the sky is dark as many of the shop employees at Richard Petty Motorsports leave home.
When the team moved on Jan. 2 from its Mooresville, N.C., location to the Richard Childress Racing campus farther north, it meant that many employees had about an hour's drive to the shop.
Alarm clocks are set earlier to be in the building by 6:30 a.m. for those who work only in the shop and 7 a.m. for those who work on the road crew.
Among the first in the building is shop foreman Brian Dantinne, who wakes up at 4 a.m. and makes the 45-minute drive — among the shorter one-way commutes — to be there by 6 a.m.
Mechanic Jerad Hewitt, whose uncle once was a crew chief at Petty Enterprises, is used to 5 a.m. alarms. He would get up then, have plenty of time to read the paper before making his five-minute drive to Joe Gibbs Racing. After joining Richard Petty Motorsports last month, Hewitt gets up at the same time but has less free time before making the hour-long drive to the shop.
It's a daunting schedule for those who are not early risers and seems even more challenging when a team's results include few top-10 finishes. With limited funding — the team does not have a primary sponsor in seven of the 13 remaining Cup races — this single-car team and its employees face challenges each week to be competitive.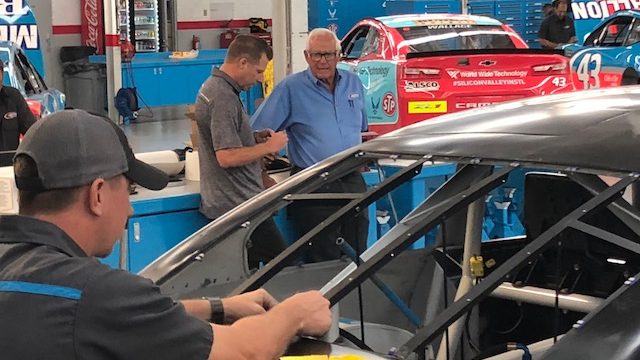 So how do those who work at RPM get out of bed, make a long drive to work and face seemingly long odds at success many weeks?
"I look at it as we're against the mega-teams," Dantinne said, taking a break from ordering parts while crew members work on the Bristol car nearby. "I look at it as a challenge every day I get up to go to work. Hopefully contribute and get better. Trust me, I want to run good. We see our faults, we know what our faults are, so hopefully we can make them better. We're all driven. Otherwise we wouldn't be here."
Saturday night's race at Bristol Motor Speedway (7:30 p.m. ET on NBCSN or the NBC Sports app) presents an opportunity for a better result since there's less reliance on aerodynamics at the half-mile track. The team is hopeful it can repeat its April performance there when Bubba Wallace drove to the front and led six laps. With the team hosting potential sponsors this weekend, another strong run could impact the team's future.
"Every weekend is important, there's no question about it," Brian Moffitt, the team's chief executive officer says. "But this one in particular with where we know Bubba has run good and we have run good … we are extremely confident that when we give Bubba the right equipment, he can drive it and take it to the front. It's exciting going into Bristol knowing that."
Wallace's car will have Medallion Bank and Petty's Garage listed as the primary sponsor at Bristol — companies operated by the team's co-owners Andrew Murstein (Medallion Bank) and Richard Petty (Petty's Garage). Those logos are put on the car when there isn't another company that has bought sponsorship.
Bristol marks the fifth race in the last six where Medallion Bank and Petty's Garage were on the car. Philippe Lopez, the team's director of competition, admits he has to be a strict gatekeeper on how much money the team can spend based on its sponsorship.
"I have to say no a lot," Lopez said. "It sucks because I put myself in (crew chief) Drew (Blickensderfer's) shoes a lot. When I have to say no, I just don't say no like your parents did. I explain to him this is where we're at and this is what we can do this month and here's what I'm thinking, the money we have we need to spend to go fast. Most of the time Drew and I agree. There are some things we need to spend money on, there are some things that would be nice, but it's not keeping us from that next position."
That can mean the team might not have the latest versions of some parts or need to run a chassis more races than a bigger team that is constantly building cars that go faster.
With a storied name such as Petty and a dynamic driver as the rookie Wallace, it's easy to wonder why the team hasn't been able to find sponsorship for every race this season.
"Reality is we were so late in what took place in '17, budgets were petty well set in '18," Moffitt, the team's CEO, says in his office, which is decorated with the trophy from the July 2014 Daytona win, the team's most recent victory.
"We knew this year was going to be like it is. We were hoping we would close more business in-season like everybody does. We really think that '19 and the discussions that we do have are very positive around Bubba."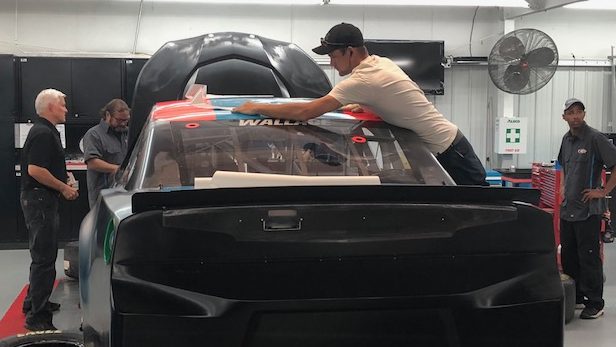 RPM didn't sign Wallace until late October last year. That was past when many companies had set their budgets. It's no coincidence that the team announced a two-year extension of Wallace's contract in late July. That gives RPM additional time to talk to potential sponsors and for those companies to budget money to sponsor the team.
While talks continue, a cost-cutting method the team does — when it doesn't have a sponsor other than Medallion Bank and Petty's Garage — is wrap the car in sponsor logos a day before the car is loaded in the hauler to go to the next race. That gives the sales team extra time for any last-minute deals.
It also creates scenes such as Wednesday afternoon at the shop when the crew is working on and underneath the front of the car, while decals are being placed on the back of the car.
Hewitt, who came to RPM from Joe Gibbs Racing admits it is a different atmosphere with a smaller team, but it's one he appreciates.
"A team like this, a smaller team, everybody is much more focused on the one goal, the focus is on the car," Hewitt said. "You have to wear a lot more hats because you're trying to get a lot more done. That's a little bit of an adjustment where at Gibbs if you saw a certain something that wasn't in your area you would go find that person. (Here) you just do it."