EDITOR'S NOTE: Dustin Long is spending this week with Richard Petty Motorsports to give fans a behind-the-scenes look at how a team prepares for a race. He will be with the team at the shop and at Bristol Motor Speedway this weekend. Watch for his stories beginning today and running through Sunday.
WELCOME, N.C. — Tuesday's competition meeting could have been held anywhere at Richard Petty Motorsports and often is.
Sometimes it is held in crew chief Drew Blickensderfer's cozy office where a picture of Richard Petty and Dale Inman from Martinsville in 1971 watches over the room.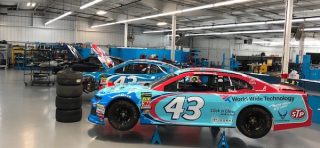 Sometimes the meeting can be held on the shop floor where some of the team's 12 cars are in various stages of dress, including the car — still in its primer black — that Bubba Wallace will race Saturday night at Bristol Motor Speedway (7:30 p.m. ET on NBCSN).
Tuesday, the meeting took place in a conference room in the front of the 20,000-square foot building that sits on the Richard Childress Racing complex.
Outside the room along a narrow hallway is a picture of a young Petty from about 60 years ago. NASCAR's Elvis stands with his right hand in his back pocket and left hand leaning on the hood of a No. 43 convertible that Inman, who walks by, says is from Darlington in the late 1950s. Petty wears a white open-face helmet and the driver's uniform of the day, a striped button down shirt with the sleeves rolled to his elbows, jeans and boots.
Just a few feet from that picture, Wallace — the future of RPM — leans back in a leather office chair in his uniform of the day, a blue Air Force T-shirt, dark jeans and sneakers. Blickensderfer sits across from Wallace in the conference room. Engineer Derek Stamets is to the right of Blickensderfer, who looks over notes on his laptop.
Sometimes there are a few more who sit in on the meeting but not many for this single-car team, which has 12 people working on the cars at the track and nine who solely work on the cars at the shop.
This is a pivotal time for Richard Petty Motorsports. While it has had sponsorship from World Wide Technology, STP, Click n' Close and the U.S. Air Force, among others, the team does not have a primary sponsor for seven of the remaining 13 Cup races, including this weekend at Bristol. For those races, the car will be adorned in the team's Petty blue and Day Glo orange with the logos of Medallion Bank and Petty's Garage, companies operated by team owners Andrew Murstein and Petty.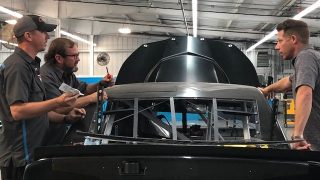 Trying to compete against teams with bigger budgets is not easy — Wallace has an average finish of 22.6 this year. But Bristol can be an equalizer because success at the high-banked short track is not as reliant on aerodynamics and dollar signs.
Wallace drove to the front and led six laps — the first laps the 24-year-old rookie had led as a Cup driver — at Bristol in April. A blistered left front tire relegated Wallace to 16th that day, but that doesn't dampen the anticipation in the shop for this weekend. A similar run, without the tire blistering, would be a great way to showcase the team to potential sponsors it will have as guests Saturday night at the track.
So it is with that at stake the team's weekly competition meeting takes place.
Blickensderfer gives Wallace a flash drive at the start of the meeting for his homework.
"That's got (Kyle Larson's) in-car (video)," Blickensderfer says. "I got that for you, at the end of the day when we had the struggle with the left front tire, we were never really able to get to the top (groove). Those guys could so I thought was worth watching.

"Yep," Wallace said, nodding.
"That's got qualifying on it, just to review what everybody did."
Blickensderfer tells Wallace they will stick with their base setup from the spring race but will try three or four things to try to "tighten entry and … help that left front tire. We'll try those in practice and see if we can figure out things."
The blistered left front tire ruined a performance that could have rivaled Wallace's runner-up finish in the Daytona 500, a result that left Petty smiling broadly and the now 81-year-old hustling through the crowd to bear hug his driver.
Knowing how close he had come to such a strong finish at Bristol, Wallace said he was "absolutely devastated, dejected, defeated" in a video he posted on Twitter shortly after that race.
Wallace was 12th on Lap 256 in the spring, climbed to sixth by lap 273 and worked his way to second on Lap 368 when he passed Kyle Busch. Wallace passed Brad Keselowski for the lead on Lap 375, holding it until Busch, who went on to win, got back by him six laps later.
Wallace soon fell back. As the left front tire blistered, it kept Wallace from running the bottom line because the car wouldn't turn as well. By the time the caution came out on Lap 471, Wallace had fallen outside the top 10 and was no longer a factor for the win.
It was with that in mind that Wallace asked Blickensderfer what happened to the tire that day.
"Do you think the setup was the cause of the left front?" Wallace asks.
"I don't think so," Blickensderfer says. "I don't know if it's chicken or egg. I don't know if the left front got worn because of the (traction compound was put down in the corners of the track) differently than it should have. There were other teams that had a similar left front issue. Us and (Keselowski) were running in the top five and 40 laps later we were getting lapped.
"It could have been brake related. Did we have something go on where you had to dial more front brake in because you were loose in?
"Yeah," Wallace says.
"Then all of a sudden when tires wear, you locked up the left front one time.
"Yeah, yeah."
"It takes some tread off and then from then on it gets worse."
"Yep."
"Or did the tread start coming up, which caused it to lock up more."
"Gotcha."

Blickensderfer notes that tire was worn in the center. Had it been worn on the inside edge or outside edge, it would have been a sign of a camber issue. Also, Blickensderfer says they had run further earlier in the race without an issue.
Blickensderfer also tells Wallace that they'll have a 15-minute penalty at the end of the first practice Friday morning because they went through inspection twice before last weekend's race at Michigan. The plan is to do a couple of mock qualifying runs in Friday's morning session. Wallace was 16th in the first round of qualifying and 20th in the second round there in the spring. Wallace's car had been loose in the corner in the first round and "really loose in" Blickensderfer notes in the second round.
"We'll make sure to give you a couple of mock runs, especially on older tires to see if that loose in gets worse as it goes," Blickensderfer says.
"OK," Wallace says.
They discuss more about the race, go back to qualifying with Blickensderfer noting other videos he's placed on the flash drive of drivers for Wallace to study, mention the weather and how that could impact their plans and make final notes. They end for lunch but the discussions won't stop. The search for speed doesn't take breaks.