CHARLOTTE, N.C. — Two weeks ago GMS Racing shocked the NASCAR community when it announced Bill Elliott would drive its No. 23 Chevrolet in the Aug. 25 Xfinity race at Road America.
The Hall of Famer's unexpected return to NASCAR competition became a little bit more real Tuesday when he and GMS Racing unveiled his throwback paint scheme for the race at the NASCAR Hall of Fame.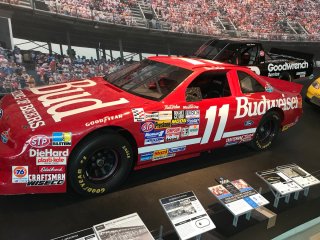 The paint scheme is inspired by the No. 11 Budweiser Ford that Elliott drove to his win in the 1994 Southern 500 while racing for Junior Johnson. That win would be his last until November 2001 at Homestead-Miami Speedway
Elliott's trophy and the checkered flag from the 1994 win were also on hand. The inspiration for the scheme is also on display in the Hall of Fame's lobby.
"I'm trying to figure out which one threw me under the bus here for this dang thing," Elliott joked after the reveal, which was done with GMS Racing President Mike Beam, who was a crew chief for Elliott throughout the 90s, including in his 1994 win.
"They just said, 'Hey, you're going to do it.' I'm in the car," Elliott said. His son Chase Elliott has made four starts in the No. 23 this season and will compete in Friday's Xfinity race at Bristol Motor Speedway.
While Bill Elliott hasn't competed in NASCAR since the July 2012 Cup race at Daytona, the 62-year-old isn't rusty by any means.
He's kept busy recently by competing in vintage races, like the SVRA "Indy Legends" Charity Pro-Am in June. He also competed in the Trans Am Series presented by Pirelli at Road Atlanta in March.
"It's not this league of racing, I'll put it that way," Elliott said. "It's still competition. Everything you do as you look at it is competition."
The 44-time Cup winner has no expectations for his first race at Road America
"I feel pretty good in the cars," Elliott said. "This will be the whole fun of it, 'How does this all work?'"
He's been aided by his son. Chase Elliott shared his notes from his most recent race at Road America, when he drove for JR Motorsports in 2015. He placed fourth in both his starts on the road course.
The notes are welcome, but they are also a stark difference between generations in the approach to race preparation.
"I never took notes," Bill Elliott said with a laugh. "It's pretty neat to have at least a rough idea of what you got and what you're looking forward to. But on the flip side, the aero package has changed from that era."
Elliott, who was inducted into the Hall of Fame in 2015, was asked a simple question at one point.
Why do it?
"How do you know if you don't try?" Elliott asked. "Whether you lose, win or draw, you always try to do things extra at the end of the day. I think from this standpoint, just go out and have a good time with it …
"There's a lot of deserving guys that could be in this thing. They want me to do it, I'll do my best."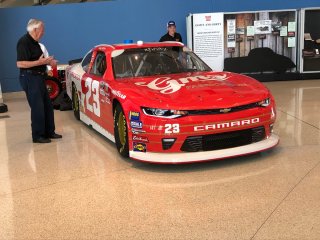 GMS Racing also unveiled the throwback paint scheme Spencer Gallagher will have in the Sept. 1 Xfinity race at Darlington Raceway.
Gallagher will sport the scheme Davey Allison drove in ARCA in 1985.
The race will be Gallagher's third Xfinity start since being reinstated from an indefinite suspension that began in April after he violated NASCAR's substance abuse policy.
"This is definitely the most special thing I've gotten to do since I started driving race cars," Gallagher said. "Getting to run the livery of none other than Davey Allison, one of the most pivotal drivers of his generation, 19 wins, Hall of Fame inductee, winner of the Daytona 500 … There's no other way to describe it. That's the coolest thing I've ever had on the car."