Ricky Stenhouse Jr. will welcome back John Deere to NASCAR in style with his paint scheme for the Southern 500 (Sept. 2 on NBCSN).
Stenhouse's No. 17 John Deere Ford will look just like the car the company sponsored in the Cup Series from 1997-2000, when Chad Little drove the No. 97 for Roush Fenway Racing.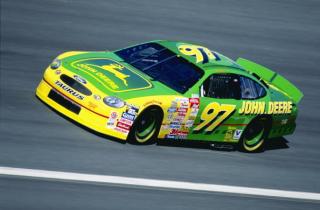 This marks John Deere's first time as a primary sponsor of car in a national NASCAR series race since Kurt Busch drove the No. 97 in the 2000 finale at Atlanta Motor Speedway (Busch made seven starts in the car that year).
Little, the father of NASCAR driver Jesse Little, made 217 starts in Cup from 1986-2002. He earned one top five (Texas, 1998) and 16 top 10s.
He is now NASCAR's managing director for technical inspection and officiating.
Below are each of Stenhouse's throwback schemes from the last three trips to Darlington.
2015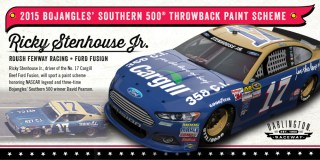 2016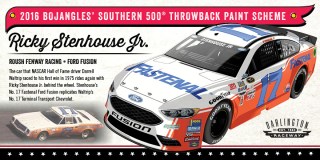 2017